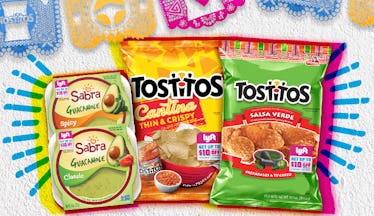 You Can Get Awesome Lyft Deals By Stocking Up On These Snacks For Cinco De Mayo
If you haven't already gotten the hint from all the Justin Timberlake memes circulating around the web, then let me tell you: It's gonna be May. I know, that was completely unnecessary, but May is right around the corner. And that means Cinco de Mayo is quickly approaching, too. As you prepare to get your fiesta on, you'll likely need a ride to get to wherever the margaritas are flowing. Luckily, one company is teaming up with some of your favorite foods in the snack aisle to give you a great deal. Here's how to get Lyft coupons with Tostitos and Sabra, so you can ride in (discounted) style.
It was announced in a press release on Monday, April 30 that select bags of Tostitos chips and Sabra Guacamole are specially marked with Lyft coupons with up to $10 off your next ride. According to a statement in the release from Sheldon Boyea, senior director of marketing, Tostitos, the snack brand is "thrilled to partner with Lyft to help Cinco celebrators get home safely." As a chips and guac loyalist, I relate on a spiritual level to what Boyea said in the release about the importance of chips and dip. He shared,
No Cinco de Mayo party is complete without a bowl of tortilla chips and guacamole, and this year Tostitos and Sabra are making it even easier for friends to celebrate together. Sabra's guacamole is made with fresh, ripe avocados and pairs perfectly with Tostitos tortilla chips providing a quick and easy party favorite.
OK, so you know that you'll need to pick up specialty packages of Tostitos and Sabra Guacamole to get the Lyft discount codes, but how do you redeem them for a few bucks toward your next Lyft ride? Thankfully, it's a relatively simple process.
According to the directions on the Tostitos website, there are three steps. First, you buy the specially-marked Tostitos bag or Sabra package and scan the circular Facebook Messenger code found on the item. Next, you'll be prompted to get your Lyft discount code, and that's when you enter the on-pack code (found on the back of the Tostitos or Sabra package) to receive a discount code to enter in your Lyft app. Finally, when you enter the discount code in the Lyft app, you'll get a credit of up to $10 on your next ride. Um, yes please!
I'll admit, it doesn't exactly sound like a bing-bang-boom process, but it is worth it to save money on your next Lyft ride. You already know the person who brings the chips and guac is the hero of any party, so enjoy that party-hero praise and a cheap Lyft ride — it's a win-win situation.
The promotion began on April 16, and it runs through June 5, 2018, according to Tostitos. Oh, and all Lyft codes from the promotion must be redeemed in the app by July 5, 2018.
Remember that the promotion is only applicable to specially-marked packages, so keep an eye out for the Lyft discount logo on bags of Tostitos Salsa Verde, Tostitos Salsa Ranchera, Tostitos Cantina Thin & Crispy, and Tostitos Cantina Traditional. When it comes to your dipping needs, Sabra 8-oz Classic Guacamole, Sabra 8-oz Spicy Guacamole, and Sabra 16-oz Classic with Lime Guacamole are what you want if you're looking for the Lyft discount codes.
If you wanted to take advantage of the crazy amount of chips and guacamole you plan to consume on Cinco de Mayo (and get all the Lyft discounts), I like the way you think, but that's gonna be no-go. Per the official rules, you can only receive one Lyft discount code per person a day. But hey, you could always volunteer to clean up the party and collect some codes to redeem at a later date (you can keep your ulterior motives on the down-low).
Lyft has a pretty good track record of helping out their users when they need a ride. Last month, the ride-sharing company offered discounted rides to people attending the March For Our Lives rally all across the country on March 24, 2018. Of course, your bestie's Cinco de Mayo fiesta is very different from the the March For Our Lives rally, but a discounted ride is always welcome when you're trying to get to your next margarita.