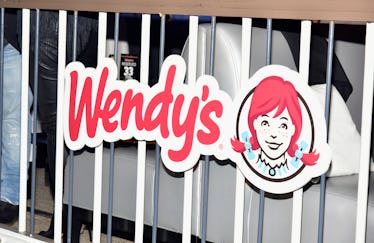 You Can Get Free Burgers At Wendy's All September Long
Eugene Gologursky/Getty Images Entertainment/Getty Images
Free food is a glorious thing. If you're looking to get your next lunch at next to nothing, then you're going to love this deal. You can chow down on a complimentary Dave's Single from Wendys with the purchase of any other food or drink item. There are a few steps you'll need to follow to claim your free burger, but it's super easy. How to get a free Wendy's burger in September for a delicious deal. It's not often that restaurants hand out free food, so make sure you enjoy this one while you can.
Lunch is on Dave this month. Wendy's sent out a tweet on Saturday, Sept. 8 announcing the good news. The chain restaurant is offering up free burgers each day during the month of September with mobile orders. The best part of the deal? There's no limit to the number of times you can partake in the freebie promotion. Well, kind of. You are limited to one free burger a day until the end of September. That's a lot of free lunches if you ask me. You will need to purchase something else like fries or a drink in order to claim your free burger.
Now for the important part: How to claim this tasty deal. You can't just show up to Wendy's and ask for a free burger. It has to be a mobile order. Luckily for you (and me), the directions are pretty simple. For starters, you will need to download the Wendy's app for iOS and Android devices. Once that's done, sign up for a Wendy's account within the app. This takes 10 seconds. Wendy's will then send you an email to confirm your account. Make sure to verify that information and then log into your account on the app. You'll see the free burger promo on the homepage of the Wendy's app. Click "Start Your Order" to begin the process.
Select your nearest Wendy's location (the app can help you pick the closest restaurant), as well as your preferred pickup method. You can choose from carry out, dine in, or drive-thru. Now it's time to build your order. (Remember, you need to purchase at least one additional item in order to claim the free Dave's Single burger.) Once you've added an item to your cart, click the Wendy's bag in the upper righthand corner of the app. This will bring you to your bag. Tap the "Add Offer" button in the middle of the screen and select the "Free Dave's Single with any purchase" option.
There you have it. That's how to claim your free Dave's Single burger from participating Wendy's locations nationwide. The deal cannot be combined with any other promotional offers. It's also not valid in Hawaii or Alaska.
What comes on a Dave's Single burger, you ask? The quarter-pound beef patty is served with cheese, lettuce, tomato, onions, lettuce, mayo, and ketchup. Or, you can forgo the fixing for a plain ol' cheeseburger, according to Wendys'.
Why is Wendy's doing us all this delicious favor? In their Sept. 8 tweet, the fast food joint cited their passion for serving fresh, never frozen beef as the reason behind the burger freebies. "Fresh never frozen" has been their motto ever since they opened up shop in 1969, according to Wendy's. I'm here for it.
I've got to hand it to Wendy's, they do serve up a fine burger. I'll definitely be enjoying a free Dave's Singe burger this month.