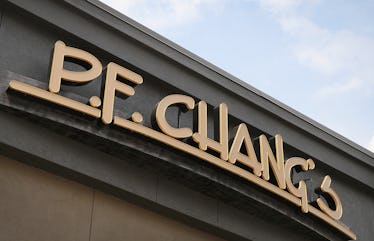 You Can Get An Entree For 25 Cents At P.F. Changs Today & I'm On My Way
Scott Olson/Getty Images News/Getty Images
Sometimes, going out to dinner can break the bank. Between appetizers, main courses, desserts, and drinks, chances are high that you'll spend a pretty penny. However, one food establishment is changing the game with a special you don't want to miss. P.F. Changs — an Asian-themed restaurant with delicious Chinese cuisine — is currently offering entrees for 25 cents. Yes, you read that correctly: You can get a meal for a quarter if you visit the eatery on Wednesday, July 25. By now, you're probably wondering how to get a 25-cent P.F. Changs entree — and the process is simple. Start digging up the change in your couch cushion and get hungry.
In order to score an entree for a quarter at P.F. Changs, you'll need to follow a few steps. (Unfortunately, you can't just show up with 25 cents and expect a cheap meal.) First, locate your discount barcode on the restaurant website, which can be found here. You can print this barcode or show it to your waiter in order to get the deal. Once you have the barcode under control, there's one more step you'll need to follow (it's easy, though).
For your next step, you'll need to order another main, salad, or lunch entree. (Yes, this is the "catch" — but it's so worth it.) Once you order your second entree, the meal with the lowest price will be discounted. In other words, you're basically getting two entrees for the price of one (plus 25 cents, of course).
There's one more catch you should know about. I hate to be the bearer of bad news, but you can only redeem one 25-cent entree per table. This means you can't walk into P.F. Changs with a change purse full of quarters and expect an ongoing feast (I'm sorry). Instead, choose your two favorite entrees and enjoy the deal for what it is. It's perfect for a budgeted date night or a cheap dinner with your BFF. Just keep in mind that you'll need to eat inside the restaurant in order to score the discounted meal.
Now that you know how to get a 25-cent entree at P.F. Changs, you're probably wondering why the company is even offering such a great discount. Naturally, P.F. Chang's 25th birthday lands on July 25, so the restaurant is celebrating accordingly. It's that simple. The stars have aligned, and I couldn't be happier.
P.F. Chang's 25-cent entree deal isn't the only way the company is celebrating its 25th birthday, though. In fact, the restaurant has been celebrating all month long with its 25th Birthday Sweepstakes. The sweepstakes gives customers daily chances to win various prizes like cards, P.F Changs swag, and a trip to any P.F. Changs in the world. If you're intrigued, enter immediately. July 25 is the last day you can join the fun, so sign up before it's too late.
I don't know about you, but I have my quarter ready to go. If you're also ready for your 25-cent entree, grab a friend and plan your trip. You can find the closest location to you by entering your zip code on this page.