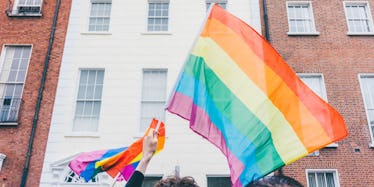 Yes, You Can Celebrate Pride Even If You're Not Out — Here's How To Join In
Pride Month, known to some as "June," is a glorious celebration of all things queer. It's a monthlong remembrance of LGBTQ+ history, as well as a month to be visible, loud, and proud. And while not everyone can be loud –due to maybe living in an area that is intolerant to LGBTQ+ folks, or not feeling safe or desire to come out, anyone who is queer should feel like Pride month is for them, even if they can't be totally visible about it. So how to celebrate Pride if you're not out?
You should remember that just because you're not "out," you're no less queer or no less deserving of a space in the community. If you identify somewhere along the LGBTQ+ spectrum, Pride Month is just as much yours as anyone else's – there are no certifications to prove your queerness to gain celebrating a month that is simply yours. So don't feel pressured or the need to come out in order to be "validated" to celebrate Pride Month. Just being yourself warrants celebration enough during this monthlong appreciation of queer folk, so you should join in however feels comfortable to you.