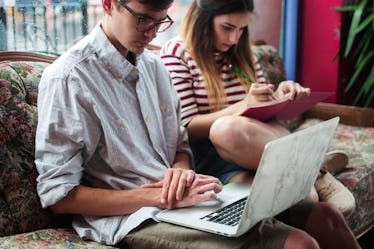 5 Ways To Keep The Stress Of Finals Week From Straining Your Relationship
It may be difficult to avoid stress during finals week altogether, but with the right strategies, you should be able to effectively cope with the pressure. If you're worried about handling finals week stress without it taking a toll on your romantic relationship, you're not alone. Balancing college courses and a significant other isn't always easy, especially before and during periods like finals week when your workload is at an all-time high. You might find yourself accidentally lashing out at your partner because you're overwhelmed with schoolwork, or maybe you're struggling to prioritize your S.O. amid your studies.
No matter how your stress is manifesting itself, navigating college finals doesn't have to negatively affect your relationship. I spoke to Pricilla Martinez, a coach with Blush Online Life Coaching, about her tried-and-true strategies for managing stress during finals week — and stopping it from putting a strain on your relationship with your partner. Luckily, finals week doesn't last forever. You only have to make it through a few cram sessions and exams. Soon enough it will be summer and you'll forget all about it. Plus, if you can learn to utilize these five coping mechanisms during times of stress, your relationship will be that much stronger.