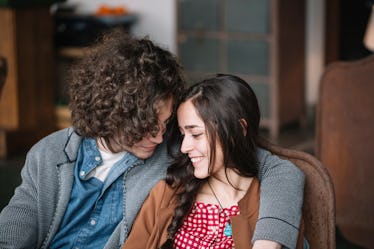 10 Non-Awkward Ways To Dodge A Kiss If You're Just Not Feeling Your Date 
Tell me if this sounds familiar: You're hanging out with someone, just minding your own business, when suddenly they lean in for a kiss — an unwanted one. It's time to make a decision, and you don't have a lot of time to make it. Do you bob and weave and dodge like a heavyweight champ? Or do you freeze and just let it happen to avoid being rude? While you never owe anyone a kiss, there are times when knowing how to avoid a kiss more subtly can come in handy. Maybe it's someone you like a lot, just not in that way, but whose feelings you don't want to hurt. Or maybe you're in a situation where you don't feel safe rejecting them outright. In situations like that, having a backup plan will save you some major awkwardness and prevent you from feeling like you can't maintain your body autonomy.
OK, before we dig into the kiss-avoidance tactics, I'd just like to take a moment to remind you that you do not ever owe anyone a kiss. Your body is yours, including your lips, and no one else is entitled to it. These tactics are just meant to offer you more options to avoid doing something you'd prefer not to do, depending on the situation, and not to reinforce the idea that you have to sacrifice your sovereignty in order to be polite. OK, feminist rant over. Here are some savvy ways to dodge unwanted smooches.