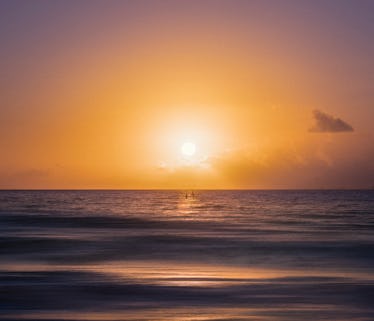 Dream Job Pays You $10,000 A Month To Live In Paradise, So Get Your Resume Out
If you've been working a 9-to-5 for a while, then you probably know that cubicle life can sometimes be a little draining. Well, what if I told you that you could say goodbye to fluorescent lights and stale coffee? OK, well only one lucky person will actually get to do that, but it could be you. Read on to learn how to apply to be Cancun Experience Officer, and get ready to finally land your dream job.
According to Cosmopolitan, this amazing offer is coming from Cancun.com. The open position is called the "CEO," which stands for Cancun Experience Officer. So, not only do you get a baller title, you also get to live in Cancun for six months. But first, you'll need to know how to apply.
You'll be happy to hear that Cancun.com explicitly states that there is "no experience required," so even if you didn't major in sandy beaches, you're still qualified. You just need to be at least 18 years old and have a valid passport. Once you've checked those boxes, you can fill out the application here, and submit your one-minute video to YouTube or Vimeo showcasing exactly why you should be the next CEO. Make sure that you're also following Cancun.com on Facebook, Instagram, and Twitter in order to be considered for the position.
Oh, Cancun.com also states that teams can apply, so get ready to spend six months in Cancun, Mexico, with your bestie business partner. Just make sure that you apply by Dec. 17, 2017, to be considered for the position.
So, how does a dream job like this even exist? Well, Cancun.com is searching for an outgoing and dynamic individual who would be able to represent the exciting destination of Cancun. In order to make sure whoever lands the job can do it well, the new CEO will get to stay in luxury resorts and hotels and earn $10,000 a month for the six-month job term. They'll also get to experience the culture and all that Cancun has to offer through excursions that are a part of the gig.
Take a look at this video detailing just some of the natural beauty and exploration that awaits you in Cancun.
As the Cancun Experience Officer, you'll be tasked to share all that you're experiencing as you explore Cancun. You'll post videos, photos, and write down some of the most memorable experiences (see: kitesurfing and visiting ancient ruins). Since you'll be the Experience Officer, it's your job to convey the wonder and charm of Cancun to the rest of the world by posting your experiences on social media. I'd take that over fighting with a fax machine from 1985 any day.
Seriously, you're basically going to get a six-moth paid (very well-paid) vacation. I mean, what do you usually do on vacation? You take all the pictures and videos you can, and then you post the most Instagram-worthy ones to your feed, inducing FOMO in all of your followers. The 40-hour work week will likely feel less like a daily grind and more like a dream vacay. Just make sure your calendar is cleared from March to August of 2018, because you'll need to be able to live in Cancun at that time to perform your duties as CEO.
After you film your application video, make sure you reach out to all of your family and friends to tell them to vote for you. At the end of the voting period, the top 100 applicants, who are reviewed by Cancun.com representatives, will be asked to make a second video. It'll be cut down to the top 50 applicants (by voting and review), and then the top five will be chosen by Cancun.com representatives to attend a week-long Interview Event in Cancun (make sure you've got your best Instagram posts ready). If you make it through all of that, you could be chosen as the new CEO at the culmination of the interview week.
Now that you know what's expected of a Cancun Experience Officer, flip your phone to video, press record, and get ready to put your expert video skills to use in Cancun come March 2018.
Check out the entire Gen Why series and other videos on Facebook and the Bustle app across Apple TV, Roku, and Amazon Fire TV.