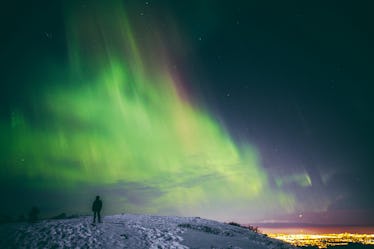 This Company Will Pay You $4,550 Per Month To Move To Iceland & Travel All Summer Long
Do you want to travel the world with your BFF this summer and get paid to do it? Well, I might have just found the best summer job for you. (You can thank me later.) WOW Air is trying to hire a Travel Agent, and they're offering the chosen candidate the ultimate travel experience this summer. TBH, it's giving me serious wanderlust. If hired, the budget Icelandic airline will move you to Iceland for the summer and pay you thousands of dollars per month to travel the world. What are you waiting for? Here's how to apply for WOW Air's Travel Guide position. If you're chosen, you'll have the summer of a lifetime.
Time to brush off the ol' resume and get your application ready, because WOW Air wants to hire you as their latest and greatest digital travel content creator. In order to apply for the three-month summer job, you'll need to create a short video travel guide of your hometown, and then upload it to your application. It sounds easy enough, so grab your bestie and hit the town. The application closes on Monday, May 14.
Are you ready for your mission? If you are selected for the job, you'll move into a fully-furnished apartment in downtown Reykjavík, Iceland for 10 weeks, starting Friday, June 1. The low-cost carrier will pay you and a buddy $4,550 per month (per person), according to Thrillist. They'll also cover the cost of sending you to a total of eight domestic and international locations for 2-4 days at a time. It's not too shabby, considering you'll get the opportunity to visit a handful of WOW Air's destinations around the world. If you're a social media pro (let's face it, I know you are), this job will be a walk in the park for you. TBH, it probably won't be too different than documenting your usual vacation with friends.
Do you think you and your BFF are up for the challenge? Some of the job responsibilities including creating vlogs for each destination, uploading Instagram stories full of useful travel tips, taking pictures of your experiences, and creating any other types of engaging travel content you can think of to create the ultimate digital travel guide for others. The winner will be announced on Friday, May 18 on WOW Air social media platforms, so make sure you're following along. If you are chosen, you will have just two short weeks to pack your bags and prepare to jet set on June 1.
Make sure you review the terms and conditions before applying for the job. I've already gone through them, so here are a few things to note if you want to be considered as a serious candidate:
You must have an active Facebook account.
You must be in good physical and mental health.
You must be fluent in the English language.
If you want to see the world and make some money while doing it, this is your shot. My advice to you is this: Don't wait until the last minute to apply to this once-in-a-lifetime position. WOW Air wants you to carefully edit your submission video, meaning you should probably give it some thought and creative flair. Now's your chance to show off your favorite local ramen spot, that super trendy neighborhood coffee shop you always hit up before work, and your favorite community park to kick back and relax with a good book.
This might be the best job opportunity I've ever come across. Just remember, you'll have to do your part — because after all, it is a job.