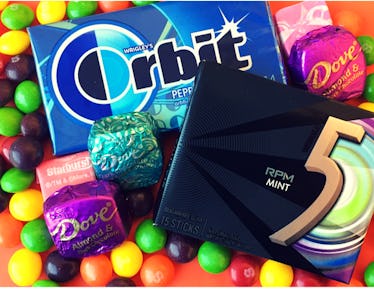 This Company Is Hiring A Candy Connoisseur & The Position Sounds So Sweet
Mars Wrigley
As a little kid, I had a lot of different (and unusual) aspirations. When I was really young, I aspired to somehow become a puppy — but since that wasn't quite attainable, I started to consider becoming a zookeeper. However, throughout my 23 years, I've also dreamed about pursuing a candy taste-testing career — and apparently, that's now possible. If you want to experience the world's sweetest summer, here's how to apply for Mars Wrigley's Candy Connoisseur internship. I'm literally filling out the application as we speak.
This experience lets the chosen intern become the Candy Man. Willy Wonka. Lord Licorice. King Kandy, if you will. Not only will he or she work to help Mars Wrigley manage all of their brand communications, social media channels, and media relations, but they'll also get to taste test all of the candy. Yeah, that's right, you heard me. And if I'm being completely honest, tasting different kids of candy is all I really need in life. This could be the most perfect job known to man.
To apply for this glorious opportunity, go to Mars Wrigley's career page. There, you'll either make an account on the Mars Wrigley job site and fill out a standard application, or you can apply using your LinkedIn page. Regardless, you'll be required to send in your resume and showcase why you should have the @WorldsSweetestInternship. It's a pretty simple process, if you ask me.
I may have forgotten to mention that this internship is entirely based in Chicago, where the Mars Wrigley Global Innovation Center is located. Not only will the intern be expected to visit the Mars Wrigley manufacturing site to taste everything, but they'll also be required to understand how the candy is made, according to the job description. Additionally, the intern will be able to produce their own batch of bubble gum, interview the company's leaders from all different departments, produce creative content, work with their Mars Wrigley Confectionery AdvanceMint™ program to help farmers from around the world, manage social media, plan volunteer events, and manage the brand. It sounds like a helluva lot of work, but boy, does it sound rewarding. Oh, and not only is it paid, but it also includes a year's worth of free candy. Bye Brooklyn, see you later. Windy City, look out. I'm coming for you.
In order to be considered for the Candy Connoisseur position, applicants must be 21 years and older, but "possess the mindset of a kid in a candy shop." Along with having strong writing and communication skills, experience in content development or journalism, and a knack for social media, the job description also advises candidates to be able to distinguish all five Skittles flavors in a blind taste-test. Yep, you heard that correctly. Additionally, they must demonstrate the ability to work with candy without eating it, blow big bubbles with chewing gum, and be a a determined and courageous trick-or-treater. If this doesn't sound like the most fun (and maybe challenging) job ever, I seriously don't know what will. Count me in.
At a pretty young age, Gene Wilder convinced me that working in a candy factory would be the dream — and now that the opportunity is available, I am so freaking ready. If taste testing the world's best candy and getting the media and communications experience of a lifetime sounds ideal to you, then you should definitely consider applying. This might actually be the best internship ever, and I'm pretty salty I didn't know about this when I was in college. None of my internships ever involved candy, that's for sure.