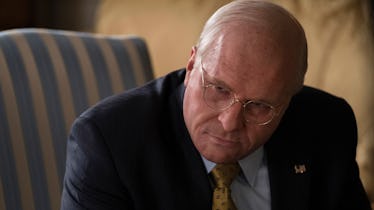 Here's The Truth Behind 'VICE's Depiction Of Dick Cheney
Annapurna Pictures
VICE, the first significant biopic about a recent political figure of the 21st century, arrived in theaters over the Christmas holiday. The oddly fragmentary satirical jaunt through the life and times of Richard B. Cheney swerves from laugh out loud funny to horrifying to political lecture with little warning. But since the film has such a clear point of view about its subject, it's logical to ask, how real is VICE? Obviously, some of the sillier stuff is made up, and a few of the scenes are surrealist nonsense. But when it comes to history, how accurate are the facts presented?
Cheney is not the type of politician to let it all hang out. He's not like Trump, who has autobiographies and interviews and tweets. In fact, Cheney does very few interviews, and there are not a lot of history books written yet to document his life. Director Adam McKay says from the outset his team "did our f**king best" to piece together the facts of his subject's career. But there are definitely places where the film takes liberties with the truth.
Here is a list running down the bulk of the film's claims about Cheney and how real they are.