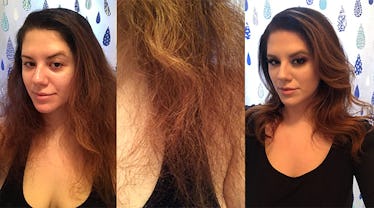 I Got My Hair "Dusted" & Ditching My Split Ends Made My Hair Look 1,000 Times Better
Kim Carpluk
Though I may be a makeup maven, I'm pretty oblivious when it comes to hair. In fact, I haven't even had a hair cut in over a year and my ends definitely looked busted because of it. If you've ever wondered how often should you cut your hair, then you're not alone my pretties. I turned to my good friend and hairstylist, Nikki Breres Avanzino, to answer this question once and for all so we can finally say goodbye to split ends and damaged-looking hair.
The last hair cut I had was over a year ago in upstate New York during a sensible weekend trip to visit my family. Throughout my appointment, the stylist kept mentioning how thin my hair was (I'm already aware) without offering tips on how to make it look better (except for parting it to the other side, which I will never, ever do). When she was done cutting my hair, I got up from the chair and began to toward the cash register to pay when I saw my reflection in the mirror. My hair was totally lopsided. It wasn't just a little asymmetrical either — one side was a full two inches shorter than the other.
I nicely showed the stylist to ask if she would fix it. She took the front two pieces of my hair, measured them together, and told me I was wrong. It was only when I brought all my hair forward in front of my shoulders that she immediately acknowledged the tremendous difference.
Thanks to this experience (and many, many more like it), I've been too scared to have my hair trimmed since. TBH, the result has not been pretty.
My hair strands began to split like crazy, leaving my ends looking thin, crispy, and frizzy AF.
For weeks, I've been noticing just how unmanageable my hair has been thanks to my split ends. No matter how many conditioning treatments I used, or how much I styled it, my ends would start the frizz into a brittle cloud of dead hair by the end of each day. So when my good friend and fellow artist of glamour, Nikki Avanzino, offered to trim my ends, I had to accept.
When I arrived at the Kieran McKenna Salon in NYC, Avanzino greeted me with the warmest hug and biggest smile. I sat in her chair and we began the consultation.
Avanzino asked what I wanted from my appointment and I simply said I wanted my hair to look less broken and sad. She said there are two main courses of action one may take to get rid of split ends: you can cut off all the hair that has truly split (which might resort in a slightly shorter cut), or you can dust (dust? with a rag?) your ends every few weeks when you come in for a blow dry, so it's not so drastic. For me, Avanzino suggested we do something in the middle of a dusting and a trim.
She said we basically should get rid of the last wave in my hair, which I totally agreed with. As soon as she made the first cut, the results were astounding.
While my hair was dry, Avanzino cut off the ends and revealed much healthier hair. Avanzino explained that once hair begins to split, it will continued to split all the way up the strand (resulting in thin, brittle looking hair) if you let it. Once you notice your ends split, that's when you should make a sensible trip to your fave hairstylist.
Avanzino also noticed that I had more breakage on my right side. She said that it might be the result of sleeping on that side (quite possible), or that it might be because curling the right side of my hair is more awkward for me since I'm a righty (also quite possible). She suggested I sleep in Princess Leia buns held up by small butterfly-type clips (rather than elastics) on a silk pillowcase to prevent additional breakage. She also suggested I take caution when using hot tools. If you touch your hair (carefully) while it's wrapped on the curler and it's hot, then it's properly cooked and good to go. If you leave it on for longer, it might result in breakage.
After she cut the ends, Avanzino then dusted my hair. Dusting is when you trim up the shaft of the hair to remove all the split ends that aren't just at the very bottom of the hair. Avanzino twirled a section of my hair and a bunch of tiny split ends popped out. She trimmed them and, all of a sudden, my hair looked significantly less frizzy overall. Avanzino just warns that you should make sure your stylist doesn't get too dusting happy to the point where he or she accidentally thins out your hair.
According to expert Avanzino, you should trim your hair every 10-12 weeks to maintain its health (unless you have a short, stylized cut like a bob that requires more maintenance). If you just want to get rid of split ends, ask your stylist for a trim. A cut is when you go for a totally new style. A trim is simply when you trim the ends to maintain the style. A good hairstylist should know the difference, and that difference should be reflected in the price.
Before I left, Avanzino washed, dried, and styled my hair to make sure everything was in tip top shape. Seriously, my hair bounced more than its ever bounced before as I walked through Central Park on my way home.
Slicing off your split ends every 10-12 weeks will give your hair life. Don't wait a year (like I did) until every strand is crying out for help. Just find an amazing and kind hairstylist (like Avanzino) that will trim your hair (not cut it), so you can maintain the gorgeousness of your style.