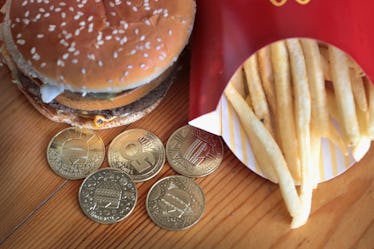 You Won't Have To Break The Bank for A McDonald's MacCoin, But Act Quickly
Scott Olson/Getty Images News/Getty Images
There's no question that the McDonald's Big Mac is one of the most beloved fast food burgers of all time. The two-patty burger is commemorating its 50th birthday on Thursday, Aug. 2, with its very own currency to boot. The MacCoin is a special gold piece of change that you can keep in your lifelong coin collection or trade in for a free Big Mac at a later date. If you want to get your hands on one of these limited edition burger coins, you will need to pay for it. How much does the McDonald's MacCoin cost? All you need to buy is this menu item.
OK, let's get this out of the way: Happy Birthday to the McDonald's Big Mac! The special-sauce burger is celebrating 50 years of deliciousness in a very wallet-friendly way. If you buy a McDonald's Big Mac on Thursday, Aug. 2 (the day of the birth of the Big Mac), you will be the proud owner of a MacCoin. That's right. In order to score your very own gold MacCoin, all you have to do is purchase a Big Mac on Aug. 2. You have a few options when it comes to the MacCoin. You can keep it for your own personal enjoyment, or you can trade it in for a Big Mac at a later date. It's really up to you, but I know what I'm going to do with mine.
In New York City, a Big Mac will cost you $5.09, according to Business Insider. Essentially, you are paying about $5 a pop to get one Big Mac plus a MacCoin. It's basically like getting buy-one-get-one Big Macs (unofficially, of course). When you look at it like that, it's a really great deal. Starting on Friday, Aug. 3, you will be able to redeem your MacCoin for a free Big Mac at any of the 14,000 participating McDonald's locations in the United States and also at McDonald's stores in 50 countries across the globe, according to McDonald's.
If you are really looking to maximize the monetary value of your MacCoin, head on over to Zurich, Switzerland where a Big Mac will cost you $6.89, according to Business Insider. Your MacCoin won't go as far in Moscow, Russia. The cost of a Big Mac is a mere $2.29. That said, you will still get a free Big Mac when you trade in your MacCoin, so nobody loses out on this deal.
After 50 years, the double-decker burger is a true icon. Although, a 2016 report in the Wall Street Journal found that only one in five millennials, ages 18 to 34, had tried a Big Mac. If you have never tried a Big Mac, now is your chance to chow down on the Golden Arches' signature burger — and get two for the price of one. You can trade in your MacCoin for a free Big Mac through the end of 2018, but you can only get the commemorative coin starting Thursday, Aug 2, while supplies last. I think I know what I'll be eating for lunch today.