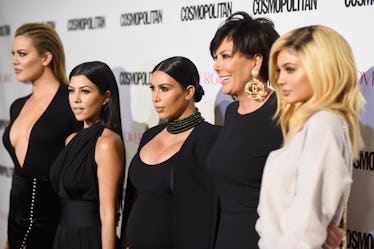 Here's How Much The Kardashians Make From 'KUWTK'
Frazer Harrison/Getty Images Entertainment/Getty Images
The Kardashian name is now synonymous with wealth, glam, fame and overall fabulousness. It's hard to deny the fact that these TV personalities/entrepreneurs/mega-moguls have had a tremendous effect on pop culture, fashion, beauty, and entertainment since Keeping Up With the Kardashians premiered on E! 10 (yes — 10!) years ago. So, how much does the KUWTK cast make? Their celebrity kicked into high gear when an eagle-eyed Ryan Seacrest saw them as reality stars in the making, and it's been skyrocketing ever since. And so have their bank accounts.
Way before the world was introduced to Lip Kits, the importance of contouring, and the concept of declaring "bible" when one is telling the truth, the Kardashians were just your average American family. OK... not quite. Back in the mid-aughts, Ryan Seacrest had the crackerjack idea to turn them into the next Osbournes. The TV host recalled a casting director's tip that the Calabasas clan had something worth broadcasting to millions of viewers... and the rest became television history.
"I remember perfectly: He called me from their house Sunday afternoon and said, 'It's absolutely golden; you're going to die when you see this tape. They're so funny, they're so fun, there is so much love in this family and they're so chaotic — they throw each other in the pool!' We watched it and rushed the tape to E! immediately, and that was the beginning," Ryan told Haute Living in 2015 of the show's humble-ish start.
Cut to 2018 and the Kardashians are basically one of the most famous families in the planet. Plus, they're still raking in bank for their long-running television show. Like, Grey's Anatomy and SVU bank.
The lightning-in-a-bottle Kardashian family dynamic — an endearing combo of aspirational, glamorous, heartwarming, and just plain silly — that the camera captures on Keeping Up With the Kardashians isn't easy to replicate. They're not just a brand — they're an empire, from products to appearances to spin-offs and beyond. And documenting familial drama, from the trivial to the hard-to-watch, certainly pays off.
According to a 2017 report in InTouch Weekly, Kim, Krys, Kourtney, Khloé, Kylie, Kendall, Scott and Caitlyn, receive an approximate salary of a whopping $500,000 per episode. And if it feels like Keeping Up With the Kardashians airing is on all year round (seriously, has E! gone 24 hours without putting it on?), you're not completely off-base. The series takes relatively brief hiatuses. Season 13 consisted of 14 eps, airing from March through June 2017. Then it picked right back up again in October of the same year with another 19 episodes. Yeah, you do the math.
Need some TV star references for comparison? Variety reports that other major earners in the $500k-per-ep range include the leads of hits like Game of Thrones and Modern Family.
Of course, while KUWTK is a big source of income, the business-savvy House Kardashian has other lucrative ventures to rely on outside of reality TV. Emilia Clarke might be on an Emmy-winning prestige drama, but she doesn't have a cosmetics line that did $420 million in retail sales in its first 18 months? Nope, that would be Kylie Jenner. Time reported in 2017 that the new mommy's estimated net worth is just about $50 million, while Khloe comes in at $40 million, Kris at around $60 million, Kourtney at around $35 million, and Kim... she's got around $175 million. Kendall has the honor of being one of the world's highest paid supermodels, but her alleged net worth as of last worth was in the $18 million dollar range.
It's hard to imagine a future without seeing KUWTK on TV while lazily flipping through the channels. I can picture it now... telling my grandchildren about the time Kim took selfies while her sister was going to jail. As long as the world keeps turning, the Kardashians will probably continue to find financial success.