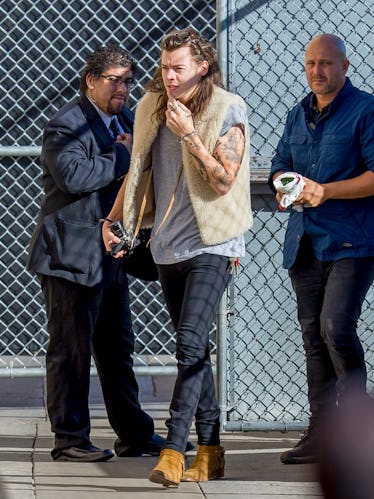 Harry Styles Has So Many Tattoos, They're Almost Impossible To Count
Bauer-Griffin/GC Images/Getty Images
Harry Styles wears his tattoos well. Over the course of his career, Directioners and Stylers have watched the singer's arms go from a blank canvas to a place where art lives and thrives. Because of his ever-growing list of tats, fans are often left wondering: How many tattoos does Harry Styles have? While there is no way to nail down the exact number, after a thorough investigation, it appears Styles has at least 56.
Styles' tattoos have taken his look from a once-baby-faced boybander to an edgy, inked-up rock star in the span of six years. Most of the time, many of the tattoos Styles has — like those on his upper thighs and lower stomach — are covered up and not talked about. But, that doesn't stop Styles' stans from noticing even the tiniest pieces of artwork that pop up all over his body. From tributes to his family members to tattoos done after losing a bet, Styles isn't shy when it comes to expressing himself through permanent art on his body.
After years of wondering how many tattoos Styles has and what the meaning behind them are, we've compiled a comprehensive guide to some of his most talked about and pictured ink.