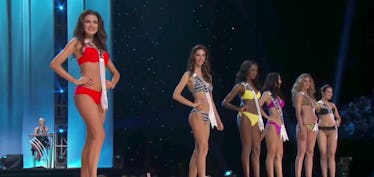 The Number Of Contestants In The 2017 Miss Universe Pageant Is Seriously High
YouTube
It's a special time of the year, you guys. The Miss Universe pageant is coming up, and call me stupid, but I have some questions. Growing up, the pageant seemed like a simple beauty contest, but I've since done my big girl research and found out it is so, so much more. There is a lot that goes into the show, including an extraordinary amount of training for the contestants. How many 2017 Miss Universe contestants are there, you might ask? Oh, just 92 women, and they hail from all over the globe to compete for the coveted title of Miss Universe.
This year, the contestant count passes the show's previous record, which was 89 contestants in 2011 and 2012. It also makes this year's competition even fiercer for the women involved. To compete, contestants must be between the ages of 18 and 28, and very specifically are not allowed to be married or have any children.
If you've also been wondering what the deal is with Miss Universe in general, I'd highly recommend you check out the pageant's website. There, it explains,
The Miss Universe Organization empowers women to develop the confidence they need to achieve their personal best. A confident woman has the power to make real change, starting in her local community with the potential to reach a global audience. We encourage every woman to get out of her comfort zone, be herself, and continue to define what it means to be Confidently Beautiful.
Mmm hmm. Seems to check out.
The last girl standing also receives a pretty impressive winner's package, which includes "a year long salary as Miss Universe."
The winner will also take home "luxury accommodations in a New York City apartment for the duration of her reign, including living expenses", and material items like a shoe wardrobe, a personalized face chart for makeup, and a modeling portfolio, just to name a few perks. (Ya know, I don't know what a personalized face chart is, but I know I want one.)
She will also have access to "personal appearance wardrobe and styling by the official Miss Universe Organization fashion stylist," and will travel heavily with the pageant's sponsors and charitable partners, all expenses paid.
Here's how the competition works: The women will be competing in three categories which include a swimsuit and/or athletic wear segment, an evening gown segment, and a personality interview segment. During the interview, the girls will have the opportunity to respond to questions asked by the judges. It's also noted on the website that the design of the evening gowns doesn't matter because the judges will predominantly "focus on how confidently each woman presents herself."
K.
Take a look at the list below to see where each contestant is coming from this year. Then, tune into FOX on Nov. 26 to see the whole extravaganza go down live.
List of countries:
Albania
Angola
Argentina
Aruba
Australia
Austria
Bahamas
Barbados
Belgium
Bolivia
Brazil
British Virgin Islands
Bulgaria
Cambodia
Canada
Cayman Islands
Chile
China
Colombia
Costa Rica
Croatia
Curaçao
Czech Republic
Dominican Republic
Ecuador
Egypt
El Salvador
Ethiopia
Finland
France
Georgia
Germany
Ghana
Great Britain
Guam
Guatemala
Guyana
Haiti
Honduras
Iceland
India
Indonesia
Iraq
Ireland
Israel
Italy
Jamaica
Japan
Kazakhstan
Korea
Laos
Lebanon
Malaysia
Malta
Mauritius
Mexico
Myanmar
Namibia
Nepal
Netherlands
New Zealand
Nicaragua
Nigeria
Norway
Panama
Paraguay
Peru
Philippines
Poland
Portugal
Puerto Rico
Romania
Russia
Saint Lucia
Singapore
Slovakia
Slovenia
South Africa
Spain
Sri Lanka
Sweden
Tanzania
Thailand
Trinidad and Tobago
Turkey
Ukraine
United States
Uruguay
U.S. Virgin Islands
Venezuela
Vietnam
Zambia
Check out the entire Gen Why series and other videos on Facebook and the Bustle app across Apple TV, Roku, and Amazon Fire TV.