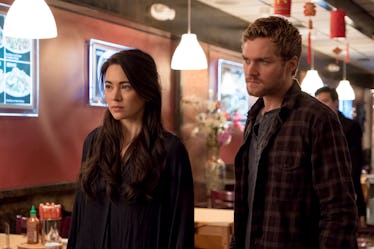 'Iron Fist' Fans Will Be Disappointed With The Amount Of Episodes In Season 2
Netflix
Fans were surprised last month when Iron Fist Season 2 was announced as the next Netflix Marvel show to arrive this coming September. Initially, Daredevil Season 3 was stated as the third Netflix Marvel series of 2018, but production ended for both it and Iron Fist at the same time, so the streaming service switched them around. With a different show arriving than anticipated, fans have a lot of questions, such as how many episodes are in Iron Fist Season 2? Turns out, it's going to be slightly shorter than viewers are used to.
One of the reasons Iron Fist and Daredevil ended filming at the same time is Iron Fist's episode order is smaller than usual. After the episode title reveals on Twitter stopped short of the expected 13, Netflix confirmed to IGN that the season would only have ten episodes.
Netflix's VP of original programming Cindy Holland had hinted at this in her Television Critics Association appearance over the weekend.
In some of the earlier negotiations and deals that we did with third-party studios, we were sort of hamstrung a little bit by the convention of the 13-episode cable series pattern... if you look at the content that we've been making out of Netflix Studios and even with third-party partners now, often the seasons are generally no more than 10 episodes.
Fans will be disappointed to lose three hours of the show, but I would argue this is a good sign.
While Luke Cage Season 2's plot extended out far enough to fill all 13 episodes, most of the Marvel shows have really been stories that are 6 or 7 episodes long. Then the show swaps out the antagonist (what I like the call the "Big Bad Swap") causing the back half of the series to switch focus entirely. This is a sign the stories really don't support 13 episodes.
The insistence on 13 episodes has always seemed strange for Netflix. This was a number leftover from the old-school OTA (Over-The-Air) standard TV season when shows were 26 episodes long. Regular seasons are shorter now, with most network shows running 22 episodes. But when prestige shows came along, like Mad Men and The Sopranos, they worked to shorten their season length even further. For traditional network producers, 13 was a safe way to create a once-a-year limited series event, filling 1/4 of the broadcast year, or half of an old-fashioned season length.
But Netflix doesn't release weekly. There's no need to consider how much of the calendar they fill since the episodes arrive all at once. It was a false metric for them to adhere to. In fact, one of the things creators like about streaming shows is they can be exactly how long or short they need to be, instead of having to fill a calendar. From Holland's statement, Netflix seems to be pushing for Marvel to take advantage of this flexibility, as they did with The Defenders eight-episode run last year.
For Iron Fist to adopt this policy of being only as long as needed is another excellent sign Season 2 is working hard to solve the issues that plagued their debut run. All ten episodes will arrive on Friday, Sept. 7, 2018.