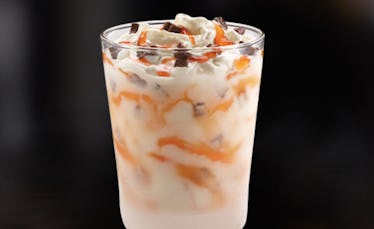 McDonald's Now Has A Cadbury Creme Egg McFlurry, So Try One Before It's Too Late
Spring has sprung and across the Atlantic Ocean, McDonald's is celebrating with its Cadbury Creme Egg McFlurry. The sweet treat was released in the United Kingdom on Wednesday, March 21 — just in time for Easter — but it will only be on the menu for six short weeks. It's with deep regret and sadness that we tell you there are no current plans to release the chocolate candy infused vanilla ice cream concoction in the United States (for now, at least). So whether you're scoping out flights or perhaps already live there, you're probably wondering how long McDonald's Cadbury Creme Egg McFlurry will be available. Well, the good news it'll last all spring but only for the next month.
The American-born fast-food chain will serve up the popular limited-release treat until Tuesday, May 1 in the U.K. only. That means you've got a little less than a month make your way across the pond and swing by the closest McDonald's for us, so get to planning.
Wondering what all the hype is about? What exactly goes into this holy McFlurry that people everywhere seem to be talking about? For starters, let's talk about the candy itself. The Cadbury Creme Egg is made of a milk chocolate hardshell that's delightfully pumped full of a soft, gooey vanilla-flavored fondant. From there, McDonald's uses its special McFlurry machine to fuse together their vanilla soft-serve ice cream with big chunks of the melt-in-your-mouth Cadbury Creme Egg candy. (Yes, you read that right. McDonald's has a special machine with a very specific name used just for blending ice cream.)
So just how did these two find each other? Here is a quick recap the sweet treat's history. According to The Kitchn, John Cadbury and Joseph Fry, two English candy enthusiasts, created the first version of what would later be known as the Cadbury Creme Egg in 1923. Although, it wasn't until 1963, nearly 40 years after that trial version, that the original version was billed as "Fry's Creme Egg." In 1971, the name officially changed to "Cadbury Creme Eggs", creating the candy that we all know and love today.
Fast-forward almost 30 years to when some genius at McDonald's had the grand idea of creating the Cadbury Creme Egg McFlurry. The coveted treat debuted at McDonald's locations across the U.K. in 2002. This year, the cult-classic treat is celebrating its 16th year on the U.K. menu. (Happy sweet 16, literally!) Across the pond isn't the only place to enjoy this deliciousness. The Cadbury Creme Egg McFlurry is also being sold at McDonald's locations throughout Canada and Australia this spring for a limited time. We don't know exactly how long the ice cream delicacy will remain on menus in either country, so hop to it!
In other news, McDonald's U.K. also released another Cadbury McFlurry creation this spring: the Cadbury Caramel McFlurry. While it's currently overshadowed by it's older sibling, the Cadbury Caramel McFlurry is worth a try. According to the McDonald's U.K. website, this limited-time-only menu item pits itself as incorporating, "soft dairy ice cream served with heavenly Cadbury Caramel sauce and Cadbury chocolate pieces." OK, is there anything that Cadbury and McDonald's can't do?
Looking ahead to 2019, it is high time to encourage America's No. 1 fast-food chain to bring one — or both — of these tasty Cadbury McFlurrys to the states. Next Easter will be upon us before we know it, so time is of the essence. In the meantime, you might just have to peruse the post-Easter candy sales at your local store and settle on whipping up your own version of the Cadbury Creme Egg McFlurry at home.