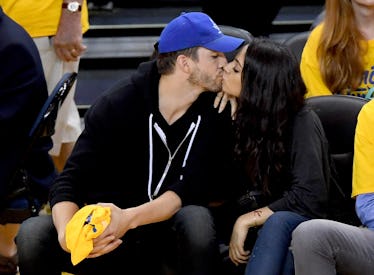 Mila Kunis Wants To Do The Cutest Thing With Ashton Kutcher & We're In Love – EXCLUSIVE
Thearon W. Henderson/Getty Images Entertainment/Getty Images
If you're anything like me, you're a hopeless romantic who swoons over painfully cute couples like Mila Kunis and Ashton Kutcher. As someone who's been single for an embarrassingly long time, it's nice to see a couple like them find their fairytale ending. However, I think we all saw this one coming from the day That '70s Show aired in 1998. Mila and Ashton — or should I say, Jackie and Kelso — had undeniable chemistry on-screen that eventually led to their relationship IRL. However, between their garage hangin' days and child-bearing marriage years, Mila and Ashton were involved with other people. So, how long have Ashton Kutcher and Mila Kunis really been together, you ask? The answer is (not really) simple.
Depending how involved with pop culture you were at a young age, you might remember when Mila Kunis dated Macaulay Culkin from Home Alone for eight years. In 2011, the famous duo split — and the same year, Ashton's marriage came to an end. Ashton Kutcher married actress Demi Moore in 2005, but the couple divorced in 2011. At this point, timing was everything, because Mila and Ashton started dating in 2012 and got married in 2015. Phew.
So, with that information, we can conclude that Mila and Ashton have been together for a collective six years, but only married for about two.
Believe it or not, I recently got the chance to sit down with Mila Kunis — but we didn't talk about her love life. Don't panic, though! We talked about something just as exciting: alcohol.
That's right, I sat with Mila and chatted about booze... but not just any booze. We talked about my favorite liquor, bourbon. Specifically, we chatted about Jim Beam Vanilla, which Mila currently represents. From the moment I sat down and began the interview, I was offered a Jim Beam Vanilla cocktail on the spot, and the drink I was given was concocted by Mila Kunis herself. The drink — called Mila's Signature Cocktail — is made with 1 part Jim Beam Vanilla, 2 parts fresh grapefruit juice, 1 part club soda, and a grapefruit garnish to top it off. To be honest, it's my new favorite cocktail. In case you're wondering, it's the perfect balance of sweet and tangy — and it's refreshing AF.
During the interview, I was so intrigued by Mila's Signature Cocktail that I asked her a very, um, specific question about it. Amidst conversation about the sweet boozy treat, I asked, "If you could drink with this cocktail with anyone in the world, who would it be?"
Side note: You should probably brave yourselves, because her answer will make you cry.
Without hesitation, Mila sat back in her chair, giggled, and said, "My husband."
SEE?! What did I tell you? She and Ashton are a match made in Heaven, and her answer just proved that they're probably the happiest married couple to walk the planet. I mean, Mila could have shared that drink with anyone — but instead, she chose her dreamy hubby that she probably sees on the reg'. It's a true testament to their long-lasting love, my friends.
Now that we've solidified the fact Mila's love life is nearly perfect, let's talk about her box office-breaking acting career. After chatting about her signature cocktail and touching upon her relationship with Ashton, we talked about her upcoming movie, A Bad Moms Christmas. The upcoming film is slated to hit theaters Nov. 1, and its themes are similar to those of the original Bad Moms that Mila starred in last year. According to IMDB, the movie is about three "under-appreciated and over-burdened" moms rebelling against the high expectations they're held to during Christmastime. While we were talking about the hilarious upcoming film, I asked Mila if she could relate to her character in the movie. Of course, she said, "Yes."
Mila continued with a statement that every woman can definitely relate to.
She said,
The original reason as to why I signed onto the first Bad Moms is because I was going through a version of what I felt like every character in that movie was going through with my first kid — and it's just the self-induced pressure to be perfect, and that's the overall theme of both movies. So in that regard, I absolutely relate to the character. I think any mom does. Any wife, daughter, or any woman relates to the ideals of perfection.
She's right. Sometimes, the ideals of perfection can be hard to achieve — especially when you're a parent around Christmastime. I suppose we'll have to wait and see how she handles the pressure in her new movie when it comes out later this fall.
In the meantime, we can look up to Mila for three things: keeping a dreamy marriage alive in the midst of stardom, staying true to herself instead of striving for perfection, and of course, mixing great cocktails.