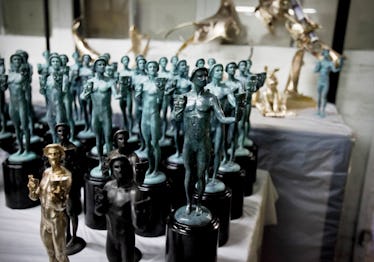 The SAG Awards Are Right Around The Corner & We Don't Want You To Miss A Second
Tibrina Hobson/Getty Images Entertainment/Getty Images
The run up to the Oscars begins in December when the first nominees are announced for the Golden Globes. It is punctuated by several other award show "bellweathers," like the BAFTAs and the Independent Spirit Awards. Most notable though, are the awards given out by the various guilds: Directors, Writers, Costumers, Producers, and, most importantly, SAG-AFTRA, whose awards this year falls on Sunday, Jan. 21, 2018. With fans having to go to work the next morning, the important question is that of length. How long are the SAG Awards? How likely are they to run over time? Will it be like the Golden Globes and Oscars always seem to do?
The good news for those who have 7 a.m. arrival times at work the next morning is that the SAG Awards have traditionally been on the shorter side of the run time clock. Where the Globes are scheduled to air from 8 p.m. to 11 p.m. and the Oscars have been known to run into the wee hours of the next morning, SAG-AFTRA books their time on Turner Networks for only two hours.
That's not to say that this is somehow a lesser award show. The reason it's shorter is because, due to their focus, it's a far more streamlined set of trophies handed out. I joked recently that the SAG Awards had managed not to accidentally nominate an all male Best Director category, unlike the Globes. That's because they don't have one. Best Direction is left to the Directors Guild. The Screen Actors focus on their jurisdiction: acting.
But this year might be a bit different. Not that they'll be handing out extra awards. That's still all acting, all the time. But the traditional format of having no host has changed for the first time since the awards were founded in 1995. With more attention being directed their way every year, the SAG Awards decided that for the first time ever, this year they will have an actual host: Kristen Bell.
Previously, with no one hosting the show, the way the SAG Awards opened was with a montage. The camera would pop around the room, and various high-profile stars would introduce themselves, telling little funny stories or making short speeches about the state of the industry. At the end of each story they close with: "I'm _____, and I'm An Actor."
This is such a different and novel way to open the show, and fans are hoping they'll still keep it. But with a host, that also means there will be a monologue, and they might even have the production do an opening number, which up until now they have also not done. Either way, it will add time to the clock.
Watching the video above, you'll also notice that this is not an auditorium-style awards show, like the Oscars are. Instead, like the Globes, it's a dinner awards event, with bottles of champagne on every table, open bars, and the works. What I'm saying is this is an opportunity for those in attendance to drink. Sometimes a few of them drink a little more than they should, especially if they're nervous or trying to soothe themselves at their upcoming loss to the much bigger name in their category... only to suddenly find it's their name that was called after all.
This makes for an awards show that's a little more unpredictable, which is a lot of fun. (Hello, David Harbour rant about Trump last year!) But unpredictable can also mean not sticking to the clock, or refusing to be played off the stage. These are the two biggest time additions to any live show. Will Bell be able to keep all the thank you speeches running on time? We'll find out in a couple of weeks.
Even if she doesn't, a 10:15 p.m. or even 10:30 p.m. end time still feels like an early night compared to most. So, tune in and check out the show. It's a nice concentrated dose of everything you love about awards season, with Best Ensemble categories to boot.
The SAG Awards air live on Sunday, Jan. 21, 2018 at 8 p.m. ET on TBS and TNT.