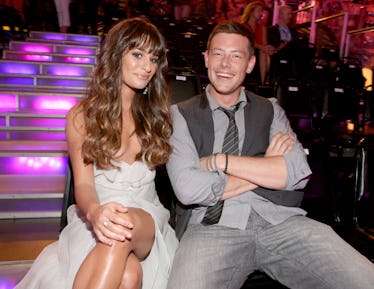 Lea Michele Broke The News Of Cory Monteith's Death To His Mom & It's Heartbreaking
Christopher Polk/Getty Images Entertainment/Getty Images
It's already been five years since the world said goodbye to Cory Monteith. And now his mom, Ann McGregor, is opening up about the loss of her son. Monteith, who was just 31 when he died, became a household name thanks to his role on Glee. And it was on the set of that show that he met longtime girlfriend Lea Michele. According to a new report from People, Michele played a huge role in how McGregor learned of her son's death. In fact, Lea Michele broke the news of Cory Monteith's death to his mom and the details will break your heart.
McGregor sat down for an interview with People and talked at length about Monteith's life, death, and legacy. She even described the moment she learned about his death from Michele, who had already been dating Monteith for a year by then:
I got a call from Lea and she was screaming on the phone. She was yelling, 'Is it true, is it true about Cory?' and I said, 'What about Cory?' I had heard nothing. And then police knocked on my front door.
Once McGregor got the devastating news, she shut down completely:
I went into a state of numbness. I just shut off all emotions, and I was numb.
McGregor explained to People that she couldn't believe her son was truly gone at first. There were moments when she would deceive herself into thinking he was still alive:
I knew it was real, but there were times when I could lie to myself and say, 'He's in L.A., he'll call me soon.' I'm still always hanging on edge. When you lose someone who is such a big part of you, you lose all purpose for living.
Monteith died on July 13, 2013, from a mixed drug toxicity consisting of heroin and alcohol. The famed actor had struggled with substance abuse for some time and had even checked himself into a treatment facility in March 2013.
Glee creator Ryan Murphy was instrumental in getting Monteith into rehab. Shortly after Monteith's death, Murphy opened up about learning of Monteith's substance abuse issues:
He wanted to continue working and we said, 'That's not an option. No. The TV show doesn't matter, your life matters. So we booked a rehab and a facility. I was very surprised that he went so readily.
While it may have been surprising to Murphy that Monteith readily sought help, McGregor is sure that her son wanted to make the most of his future.
She told People that he wanted a family and to do more with his life than act:
Cory wanted a wife and kids. He would have made a beautiful father. He had accomplished so much. He was ready to step out of Hollywood and really live. He had so much to look forward to.
When considering Monteith's legacy, his mom seemed certain that it would live on:
Cory didn't want to die. There is no doubt about that. But he's carried in people's hearts forever.
And she's helping to do that by adopting his passions, which included Project Limelight, a non-profit youth performing arts program, and St. James Music Academy, a school that provides music education for at-risk kids.