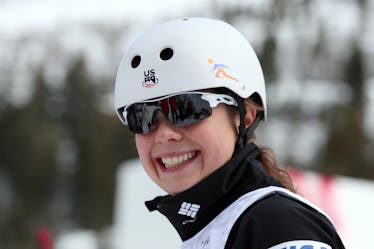 How Freestyle Skier Ashley Caldwell Fights For Gender Equality In The Olympics — EXCLUSIVE
Tom Pennington/Getty Images Sport/Getty Images
Go big or go home is Olympic aerial skier Ashley Caldwell's motto, only this young woman's not just completing triple back-flips 60 feet in the air for bragging rights. Ashley Caldwell fights for gender equality in the Olympics with each freestyle routine she brings to the slopes, and trust me when I say I could feel the determination radiating through her voice over our phone call on Jan. 16. For Caldwell, it's not about being one of the boys, or dominating other female athletes in her sport. The 24-year-old Olympian is focused on surpassing her personal best, and being recognized for her accomplishments free of gender stereotypes.
The year is 2018 folks, and yet we still live in a world where women feel the need to march on for equality. It's frustrating that we continue to see prominent gender discrimination in nearly every industry, and though we'd like to think something as fantastical as the Olympic Games would be immune to these upsets, we're reminded that nothing is perfect.
In fact, some of the biggest gender gaps exist in athletic programs. Coaches often compare the capabilities of their female athletes to their male teammates, strategically crafting routines based on the different skills they assume women and men have to offer. In regards to the Olympics specifically, though, each and every one of these athletes have advanced talents that qualified for the competition, so why does gender matter at all? As far as Caldwell's concerned, male or female competitors are performing on an equal playing field.
Caldwell's focus goes beyond earning a gold medal around her neck; she's constantly striving to achieve her own personal best.
Most, if not all, Olympic athletes have their eyes on the ultimate prize: a shiny gold medal to hang loose around their necks. While I'm sure Caldwell would like to add the title to her resume after already having won the 2017 World Championships, it wasn't the first thing to come to mind when I asked her to speak a little about her goals for the upcoming Winter Olympics. Instead, her objective is to do the biggest trick she's ever done: a quadruple-twisting triple back-flip, win or lose. I can only assume this may not exactly be what her coaches want to hear, but you have to respect the girl for a) being honest and b) going after her dreams, despite what the outcome may be.
In an exclusive interview with Elite Daily, Caldwell says her motivation stems from a goal to "do tricks as big as the boys." This isn't so much a situation of "anything you can do, I can do better," either. It's not about winning, but about achieving. "If you do a harder trick, you have a higher score," she explains. "High rewards are definitely higher risks, and I've realized that risk."
Caldwell suffered from major knee injuries in 2010 that kept her off the slopes for three years. She made her comeback in November of 2013, and has been working toward the Olympics ever since. Despite having been "hurt, sore, tired, and scared," however, she says, "I'm out here not because I just want to win. I want to push the sport."
Caldwell makes it her mission to challenge the stereotypical norms in her sport.
The freestyle skier has, in a sense, come to a crossroads in her career. On the one hand, her coaches are, obviously, trying to win the Olympic title. On the other, Caldwell has her own agenda to be her best and push herself and her talents to the limit. The two goals clash, as you can imagine, and can be difficult for a determined athlete like Caldwell to accept.
"Sometimes I'm willing to sacrifice getting on the podium or winning the event by doing the biggest trick, and they're sometimes not as willing to do that because in the girls' field, you might not have to necessarily do the biggest trick in order to win," she tells Elite Daily. "I want to be my best out there, and that's not necessarily their same motto, and that's because I'm a girl."
Caldwell learned early on in her career that in order to be the best, she could not confine herself to the restrictions placed on female skiers. Male aerialists, she says, push themselves to jump through bad weather, when they're sore, and even when they're tired, because these kinds of opportunities will make you a better athlete and competitor. Boys are encouraged, if not expected, to make the big jump, to do a fancy trick, no matter what. The female competitors, however, are told not to take as many risks because they're scored differently, and don't necessarily have to make the big jump to place.
This, Caldwell says, is why she insists her coaches let her do the big jumps and flashy tricks. For her, the risk is worth it to not only prove she's talented, but also to show that gender has nothing to do with it. Her goal is to be one of the best, regardless of gender.
"I had these really lofty goals of being treated just like one of the boys out there, and I'm getting to that point," she tells Elite Daily. "A lot of my coaches don't treat me like a girl or boy, they just treat me like me. They push me as hard as I can be pushed and I really appreciate that."
We've come pretty far in the fight against gender inequality, but there's no doubt that we still have a long way to go, and Caldwell is one of the many women in her industry taking a stand against societal norms. Whether you're a competitor or not, her message rings true: You can do anything you put your mind to and work hard toward, regardless of the assumptions people make about you.