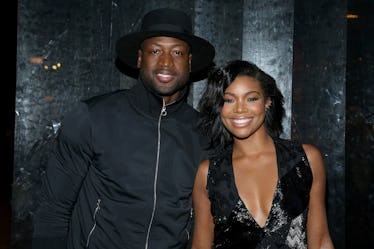 Here's How To Pronounce Gabrielle Union & Dwyane Wade's Daughter's Name
Jason Carter Rinaldi/Getty Images Entertainment/Getty Images
Gabrielle Union and Dwyane Wade have been making headlines lately thanks to an adorable new addition to their family: their new daughter Kaavia James Union Wade. How do you pronounce Kaavia? Well, Union took to Instagram to give fans a lesson in how to pronounce her daughter's name and she also explained how she and her husband came upon the name in the first place.
In Union's Instagram post, which was published on Sunday, Nov. 18, Union shared a photo of herself holding baby Kaavia. Union is smiling in the photo while Kaavia is sleeping soundly in her arms. In the caption, Union expressed how happy she is to be a new mom as well as how to pronounce her daughter's name.
"Just greazzzy and happy. That is all. @kaaviajames pronounced Kah-Vee-Uh James," Union wrote.
So, Kah-Vee-Uh is the correct pronunciation. Such a pretty name! But that's not the only name little Kaavia has, according to Union. She also revealed that her daughter, who is barely two weeks old, has a bunch of nicknames already.
"She has 102 nicknames including but not limited to Kaav, Kaavi, Kaavi Baby, Kaavi J, Jamie, KJ, Nugget, Nug, Pooters," Union continued.
Here's a look at the cute photo Union posted:
And on top of all that information about Kaavia's name, Union also revealed that her baby girl's name was inspired by family.
"We wanted to include my family in her name so the "James" is from my uncle James Francis Glass who is also my godfather," Union said in her Instagram post. "Union is her middle name. I've waited this long so fo sho I was gonna get in there 🤷🏾‍♀️👶🏾☺"
So cute! And what a great way to honor both sides of the family with little Kaavia's name. Kaavia's name was revealed to the world last Thursday, Nov. 14 on Instagram when her dad Dwyane Wade posted a sweet photo of "Kaavia James" tattooed on his shoulders.
In the caption of the photo, Wade revealed that it was a throwback photo from when he was in China!
"#TBT Goes back to that one night in China when i decided to get my daughters name tattooed on me. Kaavia James Union Wade! #paternityleave," Wade wrote.
This is the photo Wade posted on Instagram last week:
Wade and Union welcomed Kaavia James in early November 2018 and announced her arrival on Instagram on Thursday, Nov. 8. Though the baby was a huge surprise to fans, she wasn't to Union and Wade who had planned carefully for her after dealing with infertility. Little Kaavia was born via surrogate. According to People, Union detailed her infertility struggle in her 2017 memoir We're Going to Need More Wine. In the book, she explained that she "had eight or nine miscarriages."
The 46-year-old went on to reveal how difficult it was for her to get pregnant.
"For three years, my body has been a prisoner of trying to get pregnant — I've either been about to go into an IVF cycle, in the middle of an IVF cycle or coming out of an IVF cycle," Union wrote.
So, Kaavia was a long time coming and you can definitely tell that Union and Wade are totally in love with her!