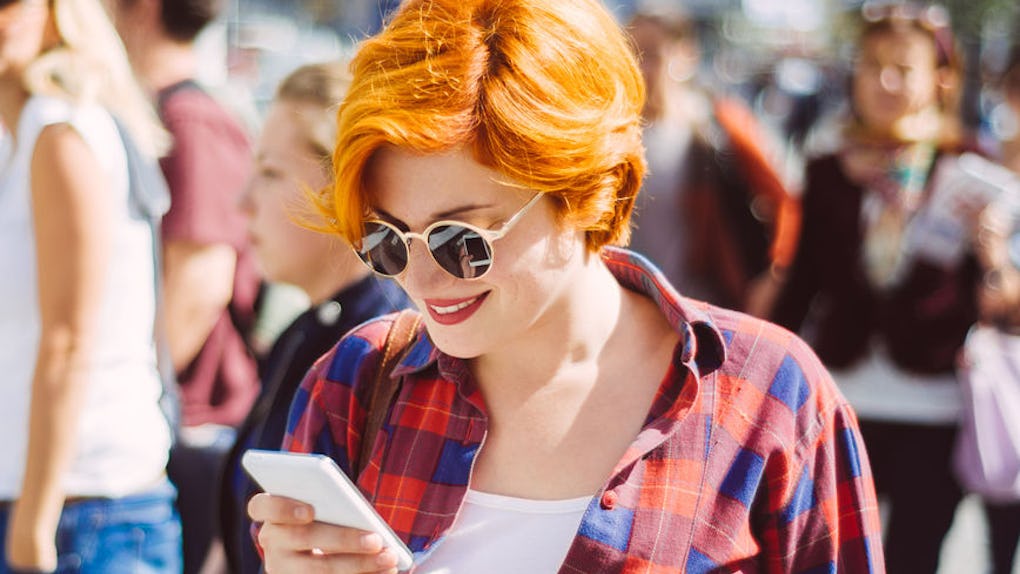 Boris Jovanovic/Stocksy
How Do You Delete Your Tinder Account? Here's What To Do When You Need A Break
True story: Over the weekend, I met my friend's new boyfriend for the first time. He was sweet, attentive, funny, and just awesome. The two of them could not seem more happy to be together. So, of course, I wanted to know where they met. To my surprise, the happy couple met on Tinder. That's right, they successfully swiped right on love. It was adorable. Usually when anything works this well, you want to keep it, but in the case of a dating app, success means it's actually time to ask: How do you delete your Tinder account?
The good news is it's actually really easy and straightforward to do. But what if you're not ready to completely delete the app? Maybe you just started dating someone you met and want to take a beat to find out where it's going before you kiss your account goodbye permanently. Or perhaps you just need a break from all the swiping and chatting. Listen, online dating can be really fun and exciting, but it's also a lot of mental and emotional labor, so if you just need to opt out for a bit, that's totally OK, too. Fortunately, there is a way to do that on Tinder, too.
So, whether you're ready for the full exit or just want to pause your swiping, here is how you do it.
How to take a temporary break from Tinder.
There may come a time when you just need to step back from your dating app. You're not quite ready to cut ties completely because either you're just taking a break, or you're dating someone and you want to keep a low profile while it develops. Fortunately, hitting pause with Tinder is really easy. It's just a matter of turning off "Discovery," which is the function of the app that allows you to be seen by and swiped on other users. When this is turned off, you still have your account, but you're effectively on hiatus. However, you will still be able to see and chat with your current matches.
To adjust this setting, go to the main screen of the app and tap on the profile icon at the top. From there, select Settings. Next, select Discovery and then simply turn Discover from On to Off. Ta-da! You are officially on a Tinder break!
How to fully delete your account.
When the time comes to say a true goodbye to Tinder, there are a few extra steps. Just deleting the app from your phone won't do it, because your profile will still exist. And if you sprung for Tinder Plus or Tinder Gold, simply deleting the app won't delete your subscription! So, if you've found love or are just ready to opt out of the swiping game, here is how to fully delete both the app and your account.
First thing's first, you need to have the app to do this, so if you deleted it off your phone, the first thing you're going to need to do is re-download it. Next, head to the top of the main screen and click on the profile icon. From there, go to Settings and scroll down until you reach Delete Account. Take a deep breath and select Delete Account. If the message says "Account successfully deleted," then you're all set and it's time to start living your best post-Tinder life.
Whether you decide to take a break or break things off for good with Tinder totally depends on what is right and feels best for you. It can feel like having at least one dating app going on your phone at all times is obligatory these days, but guess what? It's really, really not. So, like with most everything else, do what feels right for you.