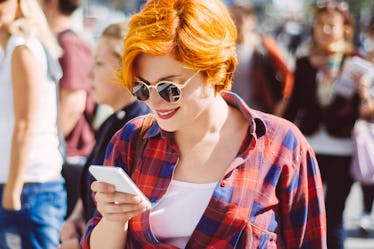 Here's How To Delete Your Tinder Account When It's Time To Take A Break From Dating Apps
True story: Over the weekend, I met my friend's new boyfriend for the first time. He was sweet, attentive, funny, and just awesome. The two of them could not seem more happy to be together. So, of course, I wanted to know where they met. To my surprise, the happy couple met on Tinder. That's right, they successfully swiped right on love. It was adorable. Usually when anything works this well, you want to keep it, but in the case of a dating app, success means it's actually time to ask: How do you delete your Tinder account?
The good news is it's actually really easy and straightforward to do. But what if you're not ready to completely delete the app? Maybe you just started dating someone you met and want to take a beat to find out where it's going before you kiss your account goodbye permanently. Or perhaps you just need a break from all the swiping and chatting. Listen, online dating can be really fun and exciting, but it's also a lot of mental and emotional labor, so if you just need to opt out for a bit, that's totally OK, too. Fortunately, there is a way to do that on Tinder, too.
So, whether you're ready for the full exit or just want to pause your swiping, here is how you do it.