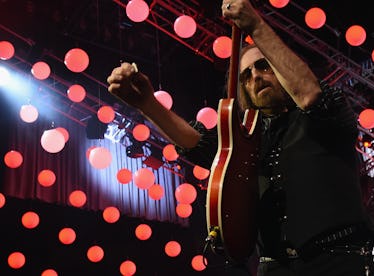 Rock Legend Tom Petty Dies At 66 And Fans Are Mourning On Twitter – UPDATE
Rick Diamond/Getty Images Entertainment/Getty Images
Update 2: On Tuesday, Oct. 3, Tom Petty's longtime manager confirmed that Tom Petty has died.
Update: At 4:35 p.m. EST, TMZ reported that Petty "is not expected to live throughout the day, but he's still clinging to life." TheLAPD and the Los Angeles Sheriff's Departmentdeclined to comment to Elite Daily. The LAPD has since tweeted, "The LAPD has no information about the passing of singer Tom Petty. Initial information was inadvertantly [sic] provided to some media sources. However, the LAPD has no investigative role in this matter. We apologize for any inconvenience in this reporting."
Earlier: The music industry has truly lost one of the greats. Tom Petty died on Monday, Oct. 2, at the age of 66, the Los Angeles Police Department has confirmed.
The news of Petty's passing came on very suddenly. On Sunday, Oct. 1, the musician was found in his Malibu home unconscious and not breathing after a full cardiac arrest. According to TMZ, law officials told the outlet that Petty was put on life support after being rushed to UCLA Santa Monica Hospital. Although it was reported his pulse returned, he was reportedly removed due to lack of brain activity.
Tom Petty first started his career in 1976 with his band, Tom Petty and The Heartbreakers. Songs like "American Girl," "Free Fallin,'" and "I Won't Back Down" have become classics in Rock music. In fact, his music became so iconic that the band was even inducted into the Rock n' Roll Hall of Fame in 2002.
Although Tom Petty and The Heartbreakers made their debut in the 1970s, they have continued to perform over the past 40 years. Petty played three sold-out shows at the Hollywood Bowl to end their 40th anniversary tour on Monday, Sept. 25. The band's tour covered 24 states and played 53 shows in total.
That length of tour would be impressive for any musician to take on. Petty confessed to Rolling Stone during an interview in December,
It's very likely we'll keep playing, but will we take on 50 shows in one tour? I don't think so. I'd be lying if I didn't say I was thinking this might be the last big one. We're all on the backside of our sixties. I have a granddaughter now I'd like to see as much as I can. I don't want to spend my life on the road. This tour will take me away for four months. With a little kid, that's a lot of time.
Needless to say, fans are absolutely crushed over losing a rock legend.
Fans posted videos of his recent performances.
People are sending love and condolences to Petty's family.
Of course, many iconic photos are being shared.
A true music legend.
Besides Tom Petty and The Heartbreakers, the musician kept his hands in a variety of different projects. Besides the 13 albums released with The Heartbreakers, Petty created three solo albums and took part in the Traveling Wilburys — a power group consisting of Bob Dylan, George Harrison, Roy Orbison, and Jeff Lynne.
The singer also worked on his SiriusZM channel, Tom Petty radio. According to CBS, "he personally oversaw the station and had his own interview show called 'Tom Talks To Cool People.'" He interviewed former musicians and all sorts of interesting people in the music industry. Tom Petty gushed to Rolling Stone, "I'm in hog heaven with the radio thing ... I want to have the best rock and roll station in the world."
Petty was very aware of how precious time is and was a believer of living in the moment. He told Rolling Stone,
We're very aware that time is finite. At the end of the year we'll say, 'What do you feel like doing? Then we'll figure out where to go next.
Tom Petty truly is a rock and roll legend who's music will live on forever.