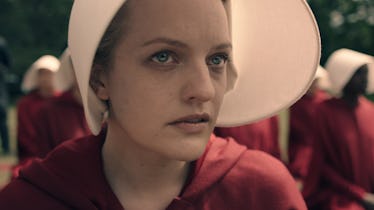 Refresh Your Memory On 'The Handmaid's Tale' Book Before Season 2 Premieres
Hulu
Season 1 of The Handmaid's Tale ended with a cliffhanger of nail-biting proportions that left audiences with their heart rates up and their hope hanging in the balance. Seriously, spoilers ahead if you haven't finished the first season of Hulu's The Handmaid's Tale. Offred's fate was unknown as she was hauled away into an ominous black van. What will she face next? You might be looking for answers courtesy of the series' source material, Margaret Atwood's 1985 novel of the same name. How did The Handmaid's Tale book end? With Season 2 of the Hulu hit just around the corner, it's about time to take a look at its literary inspiration.
"Whether this is my end or my new beginning, I have no way of knowing. I've given myself over into the hands of strangers. I have no choice. It can't be helped. And so I step up into the darkness within or else the light," Offred declares in the final moments of last year's Handmaid's season finale. Offred and her fellow Handmaids of Gilead have been through the most tragic and trying of circumstances, and now our steadfast heroine — formerly known as June — is at a dangerous crossroads.
Season 1 concluded with Offred's survival seemingly at stake and what led her to this pivotal point is a complex web of harrowing events. In a heartbreaking turn, Offred has endured the Serena's twisted and bitter plot — the Commander's wife torments her by taking her to see her daughter from afar, although she isn't allowed to speak to her or even make her presence known. There's also rebellion in the air. Offred and the other Handmaids refused to stone Janine to death — another move which can give way to further devastating punishment.
One major reveal is that Offred is pregnant with Nick's, the Commander's driver, baby. Nick's identity is surrounded by a lot of questions, the main being: Should Offred (and the viewers) put faith in him to do the right thing? "Just go with them. Trust me," he assures, before she walks calmly out of the Waterford's home and into the terrifying unknown. Nick, who supposedly acts as an Eye (the Republic of Gildead's secret police) could be putting her in the hands of a deadly regime or Mayday members attempting a rescue.
So, what does the book say? Margaret Atwood's dystopian masterpiece is almost just as ambiguous as that last breathtaking scene. Aside from revealing the protagonist's real name, the series doesn't deviate from the uncertainty of the novel — Offred's post-capture (or salvage) destiny is never explicitly confirmed. But wait! There's more! The book closes out with a second ending, an epilogue that jumps more than 200 years in the future to a post-Gilead world where two university professors discuss their findings. Readers are privy to "a partial transcript of the proceedings of the Twelfth Symposium on Gileadean Studies" from 2195 and learn that Offred's experiences were recorded on a series of discovered cassette tapes that could serve as significant window into America's chilling past. The mere presence of these tapes suggest that Offred may have made it out alive, as do Atwood's previous comments. The author told the New York Times in 1986:
The central character - the Handmaid Offred - gets out. The possibility of escape exists. A society exists in the future which is not the society of Gilead and is capable of reflecting about the society of Gilead in the same way that we reflect about the 17th century. Her little message in a bottle has gotten through to someone - which is about all we can hope, isn't it?'
Of course, there's a chance that the series could diverge further and introduce new narratives that might challenge that future. With at least there's obviously an opportunity to expand this story and take it to new unsettling heights. Season 2 of The Handmaid's Tale premieres Wednesday, April 25 on Hulu.