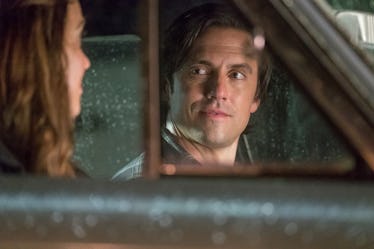 Milo Ventimiglia Promises 'This Is Us' Fans That Jack & Nicky's Past Will Be Shocking
Ron Batzdorff/NBC
Season 3 of This Is Us will dive into Jack Pearson's experience in the Vietnam War, and with that exploration comes insight into his relationship with his younger brother Nicky. We first learned that that Jack had a little brother in a surprising Season 2 twist, which led to the tease of the younger Pearson presumably dying in Vietnam while serving alongside Jack. Fans don't know how soon the show will tackle the brothers' war years, but how does Nicky die on This Is Us? Milo Ventimiglia has promised that we'll get to know Jack's brother and how he meets his demise early in the season's run.
Michael Angarano will play Nicky in Season 3 following the character's first appearance as a child in a brief Season 2 flashback. Apart from the show's reveal that he seemed to serve in the same Vietnam unit as Jack and that Jack rarely spoke about him to his family, little is known about Nicky. Milo Ventimiglia has teased that an unexpected truth about the character will leak as soon as Nicky appears in the season, telling Entertainment Weekly:
It's still a "Holy s—!" reaction to what's going on with Jack and Nicky, particularly relating to Vietnam and how Jack lost his brother. It's going to take a moment to set the character up, and really understand the challenges that he's been through as an individual. We can only assume that he's seen the same that Jack has seen, but they are individuals so it's going to take us a moment to set that up. The first time we see him on camera is going to paint a pretty clear picture of what his demons are, and what his struggles in life are. But just like classic This Is Us, we're going to bounce around in time and see a greater look at a new Pearson.
Ventimiglia seems to hint that Nicky might have a physical tic or disability, but such a characteristic would complicate or even prevent his presence in Vietnam. Fitting more with Jack's own history and the brief moments we've seen of his father, perhaps Nicky was also an alcoholic and has already reached a breaking point by the time we meet his adult self on This Is Us.
While Jack is still very much the caring older brother fans saw in his childhood flashback, Ventimiglia says that Jack grants Nicky enough space to be his own person, telling EW:
They're very close. They had that shared experience of being raised by their father, so they really had to look out for another, but they also are different spirits. Jack is very much still the older brother that looks out for his younger brother. At the same time, in what I've read so far of those scenes, Jack leaves room for his younger brother to be his own man and to stand up for himself.
The third season will delve into details about the brothers in Vietnam and likely why Jack lied in the Season 1 finale about what he did in the war. He claimed to just be a mechanic in Vietnam, but as we saw when Nicky was introduced, both brothers were seemingly active soldiers. Nicky's death probably prompted Jack to explain little about his time in service, which definitely suggests that Jack is somehow responsible for his passing. His grief and any remaining guilt about Nicky would explain his guardedness and brief dalliances with thievery and gambling right before meeting Rebecca in the late 1970s.
I don't know how long Nicky's storyline will last, but if there's anything that This Is Us makes me cry about, it's brotherly bonds. Move aside, Kevin and Randall, because Dad and Uncle Nicky are here to destroy our tear ducts.
Season 3 of This Is Us premieres on Tuesday, Sept. 25, at 9 p.m. ET on NBC.