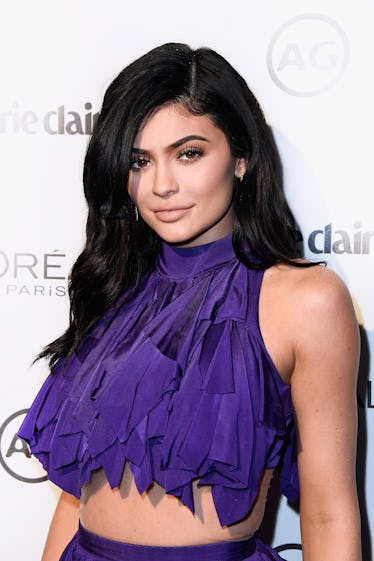 Kylie Jenner Revealed How She Chose Stormi's Name & It's So, So Cute
Frazer Harrison/Getty Images Entertainment/Getty Images
Choosing an awesome baby name is hard for anyone. But when you're part of the Kardashian-Jenner dynasty, the pressure is really on to pick a memorable baby name. But not all of the famous siblings in the clan felt that way. Take Kylie Jenner, who gave birth to little Stormi Webster in February. As the youngest of the Kardashian-Jenner set, the world is expecting a lot of her, but her baby's name simply wasn't up for much discussion. So, how did Kylie Jenner choose Stormi's name? Well, it looks like baby daddy Travis Scott may have helped!
In a new interview with the Evening Standard, Jenner revealed how she and Scott came upon the name Stormi:
I really don't know how we thought of Storm. Her dad insisted it was him, but I feel like it was me. And that kind of just stuck with us. And then I didn't really like just Storm — I didn't feel like that was her name. So then it became Stormi. And it just stuck.
Were there other names that the couple considered? Jenner's not so sure because Stormi took over the couple's minds and hearts:
I feel like there were a lot of other names that I might have even liked better to be honest, but I feel like Stormi picked her own name, like it was just her name.
How adorable! Clearly, the name Stormi was just meant to be and it seems like Jenner and Scott are super happy with it!
The interview, which was published on May 1 and conducted by Jenner's big sister Kim Kardashian, tackles all sorts of topics. Jenner waxes poetic about motherhood, her cosmetics line, and whether she has any regrets.
For Jenner, motherhood is the absolute best thing that's ever happened to her and she's finding it to be a beautiful experience:
I feel like it's just been so amazing, and so much fun. I'm learning so much more about myself and life, and it's been such a great experience. Of course there's hard times and stuff… even in the beginning, just not sleeping, the nights, like, baby blues… and all the ups and downs. And also even when I'm here it was so hard to leave this morning. I'm like, 'I'll be right back, I'm so sorry, I have to leave!' and she doesn't even know what's going on. I think about her all the time, anywhere I am. I would rather be with her or wish she can come everywhere. I can't wait till she can come everywhere with me, because right when she's old enough I'll bring her everywhere.
Wow, Jenner seems like such a genuinely good mom. It's beautiful how much she loves Stormi and loves being a parent.
You know what else she loves, though? Being a sharp business woman! Yup, the 20-year-old launched her multi-million dollar cosmetics line in 2016 and it's been doing exceptionally well. And she's loving every second of it:
It's the most authentic thing I've done in my career, and it really relates to me, and I feel like people can tell that I'm super passionate about it. It came from an insecurity and I turned it into something. I was insecure about my lips, and lipstick is what helped me feel confident. And I feel like people could see that it's authentic to me, and it was organic, and it just worked!
So, between being an incredible mom and a hugely successful entrepreneur, Jenner's life is pretty much made! It's so wonderful to see her doing things that she loves. Plus, she seems really happy in her life right now. There's no doubt that little Stormi will be better off because of it!