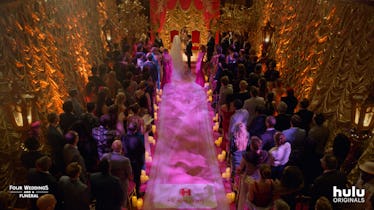 This Hotels.com Contest Will Pay For 1 Special Couple's Honeymoon, But There's A Catch
Hulu, Courtesy of Hotels.com
Let's face it: Weddings can get super expensive — and the cost of everything could totally interfere with your honeymoon funds. If you're currently saving up for your big post-marriage vacay, then you should check out Hotel.com's #SponCon wedding contest. The contest is offering entrants the chance to win a free honeymoon, and it's really easy to enter. However, there is a catch, and it involves your wedding vows. So before you sit down and write a sweet, romantic passage about your bae, go ahead and read more about the offer. I mean, a free vacation is involved, guys.
Hotels.com announced its #SponCon wedding contest on Thursday, Aug. 15 — and if you want to enter, you'll have to ask someone to film your ceremony right before you say "I do." According to the travel site, newlyweds seeking a complimentary getaway have to mention Hotels.com in their wedding vows, and then upload a video of the mention onto Twitter or Instagram. Then, they have to add @hotelsdotcom to the post and use the hashtag #HotelsSponConVows.
If you're up for the challenge, start thinking about ways to incorporate Hotels.com into your vows. But if you're looking for some inspo, take a look at Zara from Four Weddings and a Funeral. According to an email from the booking site, she wore a Hotels.com-inspired veil to her big day.
There's one more thing that I want to mention before you start rewriting your vows. According to Hotels.com, the contest will officially come to a close at 6 p.m. on Monday, Sept. 23. Therefore, if you have a wedding planned between now and then, you can definitely enter the contest for the chance to win a free honeymoon — so start rehearsing.
Also, when I say "free," I mean mostly free. If you end up winning the contest (congrats!), Hotels.com will do their best to cover your travel and hotel accommodations, plus extracurricular costs along the way. More specifically, the company will give you a $10,000 gift card for Hotels.com and an extra $5,000 Visa card to use during your honeymoon. Therefore, if you win, you'll have a total of $15,000 to put toward your vacay — and if you spend less that (or exactly) that, your trip will basically be free. For more details about the prizes (including tax information), check out Hotel.com's official contest rules.
So... about those vows. Have you thought about ways to incorporate Hotels.com yet?
If you end up entering the contest, you won't have to wait too long to see if you've won the honeymoon money. According to Hotels.com, a winner will be emailed on or before Tuesday, Oct. 1. However, if that winner doesn't respond to their email about the contest within 48 hours, a new winner will be chosen. With that being said, check your email account regularly and cross your fingers that you'll win a free honeymoon for you and your husband or wife.
While you're waiting for the winner to be chosen, visit Hotels.com and scan potential vacation packages. Whether you win the contest or not, the site can help you plan your romantic getaway.