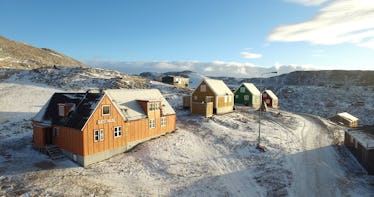 You Can Stay At This #RemoteAF Hotel In Greenland For Almost Nothing This March
Courtesy of Sassy Films
I don't know about you, but sometimes I find the planning portion of a vacation to be a very stressful experience. Even before you start getting details in order, you need to pick a worthy destination for your getaway, and TBH, that's one of the hardest parts for me. There's so much pressure to make sure that you pick somewhere that will ensure vacay fun. Well, if you're on the hunt for a different destination that will provide you with so many "do it for the 'Gram" opportunities, check out Hotels.com's Ittoqqortoormiit Guesthouse March 2019 deal in Greenland for a #RemoteAF trip that you'll never forget.
If you're finding it difficult to pronounce the 16-letter town of Ittoqqortoormiit in East Greenland, rest assured that you are not alone. Thankfully, many people simply refer to it as Itto — and that's all you'll need to successfully get around in this town of 450 people. Hotels.com is making it even easier to stay, too, with its announcement of an incredible deal on Tuesday, Nov. 27. For the month of March 2019, you can stay in the Ittoqqortoormiit Guesthouse for next to nothing, thanks to Hotels.com picking up the cost of the room — you'll just have to cover the 1 percent charge of taxes and fees.
When it comes to even more reasons why you should choose Itto for your next getaway, well, for those with an adventurous spirit, you'll be excited to learn that the only way to get there is by helicopter. Yep, when Hotels.com calls the Ittoqqortoormiit Guesthouse the "world's most #RemoteAF hotel," they're not speaking in hyperbole.
Interested yet? If not, I'm sure these views will give you the travel bug.
Once you land in Ittoqqortoormitt, there is no shortage of adventure. I was lucky enough to take all six flights and two helicopter rides (!!!) to experience everything Itto has to offer — you'll first fly to Reykjavik and Akureyri in Iceland and then to Constable Point (the airport in Greenland) before taking the Air Greenland helicopter to Itto — and there are plenty of exciting ways to keep your attention during your visit. First of all, once night falls on a clear sky during the months of September through April, your chances for seeing a brilliant Northern Lights show are very good.
Want to keep yourself busy during the day? Head out on a dogsled adventure or rev up the engine by hopping on the back of a snowmobile. You won't have to worry about dressing to the height of fashion during your stay, either, because the only thing you'll want to focus on is staying warm (spring temps range from -4°F to 0°F) When you book your activities through Nanu Travel, the travel agency in Itto, you'll also be able to rent cold weather necessities like a snowsuit and winter boots for only around $11 for the suit and $4 for the boots per day. So, bundle up and enjoy a three-hour tour led by the beautiful East Greenlandic dogs alongside Scoresby Sound, a fjord system (an inlet of water with steep sides created by a glacier) on the coast of Itto.
Newly appointed President of Hotels.com Adam Jay details the perks of choosing Itto as your next getaway in the press release. Jay shares,
You may not be able to pronounce Ittoqqortoormiit but trust me you do not want to miss out on this place. Greenland as a destination is really heating up (even though it's in the negatives most of the time!), as today's travelers are seeking those rewarding, once-in-a-lifetime experiences. This stunning island is an epic bucket list destination where you can go sledding with wolves, kayaking in the Arctic and maybe see the Northern Lights almost from your room. It's truly spectacular and the best bit is – we're picking up most of the room tab!
As for the accommodations, the Ittoqqortoormitt Guesthouse has seven guestrooms (five single rooms and two double rooms), two fully-equipped kitchens, two bathrooms, a dining room, and a living room with a TV, games, books, DVDs, and more. To get the discounted rate in March 2019, aka to only pay the 1 percent of taxes and fees, all you need to do is book a room online through Hotels.com by Dec. 31, 2018, but beware only the first 217 bookings will get the deal. To get the discount, you must apply the "REMOTE" coupon code at checkout, and your stay must be between March 1 and March 31, 2019, per Hotels.com. Any other travel expenses to get to and from Ittoqqortoormiit are not included in the deal. Per Hotels.com, the flights from Reykjavik to Akureyri to Constable Point are about $470 total, and then the helicopter flight from Constable Point to Itto is $142, which makes your total cost to get there about $620. The return trip is about $675 total.
The going rate for a single room in the Guesthouse is about $84 per night and a double room is about $107 per night, but you can save on those rates if you get within those first 217 bookings for the March 2019 deal. Don't fret if you're booking No. 218, because the Guesthouse is available at its regular rates for booking on Hotels.com throughout the year.
There's no doubt that Itto will be one of your most unique travel experiences yet. So, now you can decide which March 2019 dates suit your travel needs, and get ready to go #RemoteAF (for next to nothing) for your next vacay.