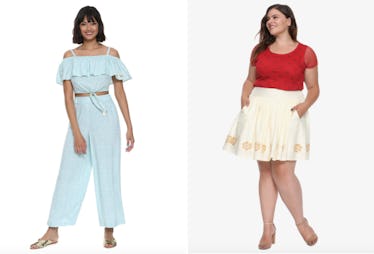 Hot Topic's Disney Princess Line Is Here, So You Can Dress Like Your Favorite Shero
Remember when you were younger and would dress up as a different Disney princess for Halloween each year? Well, now you can do that as an adult, any day of the year. Hot Topic's Disney princess collection has everyday wearable outfits based on the imagined style of the post popular characters so good luck choosing your favorite.
The collection, sold online at Hot Topic, was designed by Grace Duval, Lindsay Orndorff, and Rose Ivy, who were the winners of the Her Universe "Geek Couture" Fashion Show at the 2017 San Diego Comic-Con. The three winning ladies have now teamed up with Her Universe, the company's founder, Ashley Eckstein, and Hot Topic to sell their epic Disney designs so that you can channel your inner (and true) princess.
The collection is called "Destination Disney" but don't expect any ballgowns or mermaid tails. The clothing (and accessories) are more low-key Disney-inspired, and at first look, your #OOTD admirers may not even realize your Mulan-themed tracksuit. Yup, Mulan's got a warrior tracksuit, The Little Mermaid's Ariel now wears green jeans, The Princess and the Frog's Tiana wears a printed romper, and, well, you'll have to keep scrolling to find out what else there is!
Mulan
Mulan's look is a warrior princess tracksuit. The words "warrior" and "reflection" are printed on the inside of the vest to remind you that, just like Mulan, you can do anything. The vest is also available in plus sizing ($35, Hot Topic).
You could definitely go to warrior bootcamp in these joggers. Find the plus size option online, as well ($40, Hot Topic).
Mulan has to have her sword!
Every great warrior has a bomb eye shadow palette, no?
The Little Mermaid, Ariel
This ruched, shell-printed top is so summery I die. Find the plus size top online, too ($40, Hot Topic).
These green skinny jeans have a super subtle homage the Ariel with the scale print at the hips and a rear patch that reads, "Ready to stand." The plus size pants are also available because real mermaids have curves ($55; Hot Topic).
The most beautiful dinglehoppers I've ever seen.
Aladdin, Jasmine
The Princess Jasmine outfit is the most similar to the character's original look, and the top pays homage to the princess' spirit with the phrase "Be free" printed on the back.
I'm really into the idea of this outfit as a bathing suit coverup, too.
A true magic carpet ride may be unrealistic, unfortunately, but this handbag will get you close.
The Princess and the Frog, Tiana
Tiana's lily pad-printed romper reads "Make it happen" on the back.
Tangled, Rapunzel
Showing up to class or work in a full ball gown may get you a few stares, but this gown-inspired dress will garner you some compliments. Find the plus size dress online, too ($65, Hot Topic).
DIY nail art FTW.
Be your own hero with a Flynn Rider crossbody bag.
Moana
This Moana top gives you the look of a faux tattoo from the back, a fun way to give your parents a little scare. The plus size top ($40, Hot Topic) also has the design.
Give me a skirt with pockets any day.
Mix and match your earrings with this three pair set, or use it as an excuse to get a few more piercings!
Never worry about who has the Heart of Te Fiti when you're wearing it around your neck.
Hei hei is maybe the most underrated Disney character, so I'm glad to see he's getting some rightful recognition in this bag.
Hot topic's site teases even more Destination Disney items being released soon, so keep an eye out for your favorite characters to be represented.