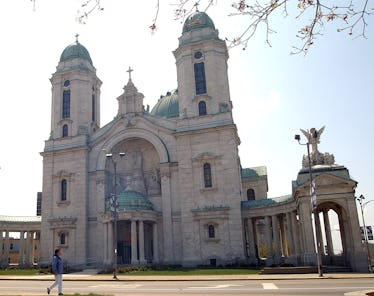 This Catholic School Banned Its Gay Valedictorian's Speech, So He Spoke Outside
John Normile/Getty Images News/Getty Images
The end of May is graduation season. Students celebrate all the hard work that has gotten them to the very special moment where they can walk across the stage and accept their diploma. When you're the valedictorian of your high school class, that title honoring your exemplary work as a student usually comes with the responsibility to give a speech at the commencement ceremony. One Kentucky high school senior was preparing to do just that, but then his speech was deemed "too political." Holy Cross High School banned Christian Bales' graduation speech, but the senior took his voice outside and gave the speech anyway.
During the Catholic school's graduation in Covington, Kentucky on Friday, May 25, Bales was slated to speak to his fellow graduating seniors as the class valedictorian. According to ABC News, before he could take the stage at the graduation venue, his speech was categorized as "political and inconsistent with the teaching of the Catholic Church," per Tim Fitzgerald, a spokesman for the Diocese of Covington. With that message from Diocese of Covington, Bales, who is openly gay, was banned from sharing his speech with his classmates and their friends and family in the ceremony venue.
Bales had company in his status as a banned graduation speaker. His best friend and Student Council President Katherine Frantz was also not allowed to deliver her remarks to the graduating class on Friday evening based on the same reasoning as why Bales' speech was banned. Per Bales' mother, Gillian Marksberry, the students were only notified about the diocese's decision 10 hours ahead of Friday's ceremony. Fitzgerald, the diocese spokesperson, also said the students failed to meet a deadline for speech reviews.
Bales told WCPO-TV in Cincinnati that the decision to ban their graduation speeches may have been, in part, because of their reputation as being outspoken on various social issues. Holy Cross principal, Mike Holtz, and district superintendent, Michael Clines, didn't comment on the matter.
Even though he couldn't address his peers during the ceremony at Connor Convocation Center at Thomas More College in Crestview Hills, 18-year-old Bales didn't let the opportunity to share his parting words with his classmates slip by him. Bales grabbed a bullhorn and delivered his speech outside the ceremony venue.
His full two-page speech is available to view in a Google Doc. Some of the highlights of what he shared outside the convocation center he was banned from speaking in include his nod to the Stoneman Douglas teens and their mantra, "The young people will win." Bales' banned speech detailed how his four years at Holy Cross helped him learn "...how to utilize my voice to advocate for my beliefs as an ethical individual."
His words further pushed the need for young people to get involved in the real issues of the world. Bales' speech expanded the definition of "wisdom" as he explained,
There's a misguided notion that wisdom is directly proportional to age, but we're disproving that daily. Sometimes the wisest are the youngest in our lives, the ones who haven't yet been desensitized to the atrocities of our world.
Finally, he detailed some of the actions he and his fellow classmates have already taken to help the young people "win." He praised one student's address to "honor those lives lost" in the Parkland school shooting on Feb. 14, 2018. Bales and his peers also "fought to defend our history and relocate the Jefferson Davis memorial in the Kentucky State Capitol building," (Davis was the president of the Confederate states). In his speech, Bales also acknowledged his classmates who participated in a March For Life in January.
Even though Marksberry was shocked and "very, very emotional" about her son's banned speech, she made it clear that his delivering it with a bullhorn outside of the venue was not a "vindictive" or "vengeful" move. She emphasized the fact that Bales "earned the right to have a voice." Given that he was the class valedictorian, it does seem as though he "earned the right" to have an opportunity to give his commencement speech.
Following his memorable outdoor commencement speech, Bales will attend University of Louisville on a full-ride scholarship with plans to major in biology and become a conservationist. If his speech is any indication, Bales will continue to lift up his voice and help the young people "win."