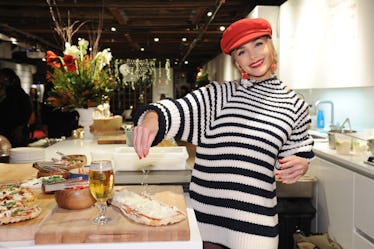 Olivia Culpo's Secret To Planning A Holiday Party Is Surprisingly Simple – EXCLUSIVE
Craig Barritt/Getty Images Entertainment/Getty Images
Olivia Culpo wears many hats: Former Miss Universe, model, makeup expert, actress. But this holiday season, she's adding "expert party planner" to that list. Culpo recently teamed up with Stella Artois' #HostOneToRemember campaign, and she planned a holiday party that could melt even the coldest hearts this winter. As part of the campaign, she created a Stella Artois Cidre cocktail that is simple enough for you to make at your family's holiday parties while having the façade of a drink that only expert bartenders can make. So basically, she created an easy AF cocktail that on the surface will impress your family and make you look like you've really perfected your #adulting skills since last Christmas, when IRL, you just mixed some things together and threw in some rosemary you stole from your roommate's Blue Apron delivery.
Culpo's advice for staying sane during the holidays (while also getting in that much-needed family time) will have you feeling like a real person in no time. Culpo tells Elite Daily she was excited to team up with Stella Artois because she doesn't think party planning is as daunting a task as our generation may think. She says,
"This is Stella Artois' #HostOneToRemember campaign, and it's basically encouraging people to host, don't be afraid of making a party, bringing people together, and celebrating. I just want to encourage people to celebrate!"
She adds that being part of a big family (she's the middle of five children) meant the holiday season was filled to the brim with family events and traditions. Her favorite tradition? The food. Girl, same. She tells Elite Daily,
I grew up in a huge family, so for Christmas we do the Seven Fishes, we do a huge Thanksgiving — open door policy, anyone can come that wants to come. I've done the Thanksgiving Day Parade the last few years around the holidays, too. It's the most iconic and epic celebration for Thanksgiving, it's great. So I'm really excited about getting to see my family. We have a lot of traditions, one of which is to make holiday cookies, and pesto, and pizza/calzones. We do tons of drinks and food, and it's really just about getting people together, and there's really just no rules for making a fun party. It's just about relaxing and having fun.
Now, about this easy AF cocktail Culpo created. It's called her Cidre Sparkler cocktail, and I can attest that it is tasty as hell. She used the Stella Cidre drink as the main event in the cocktail, combining it with cranberry, lime juice, rosemary, and homemade syrup, and it's literally delightful and tastes like a hug. Don't let the homemade syrup part scare you, though. It's really easy to make.
To make the cocktail at your family's upcoming holiday party, follow these simple instructions, courtesy of Stella Artois:
For the homemade syrup:
1.5 cup cranberries
1.5 cup sugar
2 cups water
4 rosemary springs
Bring cranberries and water to a boil and cook until cranberries are soft (approximately eight minutes) and can be crushed with a spoon. Remove from heat, add sugar and rosemary, stir to dissolve sugar. Let steep for at least one hour; strain and press the juice from the berries. Chill.
To build the cocktail:
.75 oz homemade rosemary cranberry syrup
.25 oz lime juice
1 bottle Stella Artois Cidre
Build cocktail in a tin shaker, add ice and strain into Stella Artois Cidre wine glass. Garnish with rosemary sprig.
Outside of food and party planning, Culpo says her fondest memory of the holiday season throughout childhood was buying matching PJs with her two sisters to wear on Christmas day. She adds, "I wear my pajamas all day on Christmas, and we go to the party with our pajamas on. It's our PJ party."
Because of her cozy holiday traditions with her family, Culpo wanted to plan a party for Stella Artois that gave that same cozy vibe. The mark of a good party isn't glitz and glam and everything going according to plan, she says. It's all about bringing people together for a nice night, and it doesn't really matter how fancy those plans are. Just plan what you like and make it happen, because the people coming together is what will make the party great. She tells Elite Daily, "I hope that everybody realizes that you don't have to have everything perfect in order to have fun."
The biggest theme at Culpo's #HostOneToRemember party was finding the heart in simplicity. There weren't any extravagant performances during the night that were aimed at making you remember the party for years to come. Nope, it was a night filled with simple, fun holiday activities like decorating cookies, eating, and drinking. Everything was aimed at providing people the space to speak with one another above anything else, because at the end of the day, you'll remember the people you spent time with and the memories you've shared more than any party activity someone could plan.
Speaking of planning, Culpo has some solid holiday advice when it comes to the stress holiday spending can bring. She says to start your holiday gift shopping now so your wallet doesn't want to murder you when you're dropping all of your cash the week leading up to Christmas. She says, "planning in advance is really important, especially for the spending. Start thinking about what you're going to get people now, and then you don't have to spend it all in one month."
But she also knows self-care is one of the best ways to prevent stress and provide stress relief during the holiday season. According to Culpo, taking care of your skin is one of the most important self-care practices. She tells Elite Daily,
Another [self-care] thing is exfoliating the skin, because oftentimes we can get really, really dry and dull because it is so dry outside. Your skin isn't taking to moisture because it's dead. So you need to have exfoliation so you can bring out new skin and moisture. And another thing is meditating. It helps a lot with keeping your thoughts filed and focused. If I could, I would do it every day.
Her best tips for keeping your skin and hair fresh and healthy during the cold winter months are pretty foolproof. She advises,
I would say using steam when you can, getting regular facials so you can polish your skin and exfoliate, definitely drinking a lot of water, not over-washing your face because that will actually strip it of the natural oils, and sleeping with a coconut hair mask. Coconut masks are my favorite hair hack. I feel like nothing store-bought works better. You wash your hair, and then you put in the coconut mask and sleep with it, and then in the morning you wash it out.
Let's talk about holiday food though, which was also a huge part of Culpo's #HostOneToRemember party. The event featured a huge table filled with cheeses, charcuterie boards, finger foods, and of course, brick oven pizza — one of Culpo's childhood-favorite foods. She tells Elite Daily one of her fondest memories of her family during the holidays is, "Definitely the pizza making." She continues,
I love making pizza with my family. My mom has a pizza pan that has been passed down for three generations, we have a brick oven pizza at my house. And in my family, every Friday was pizza, so that's always special and reminds me of my holidays with my family.
So basically, Culpo's favorite memories of the holidays are sitting in her PJs, making and eating food surrounded by her family. And that's exactly the kind of night she planned with Stella Artois. She says she hopes everyone is able to remove the stress from holiday party planning and just bring people together for a memorable night. She tells Elite Daily,
My favorite part about the process of planning a party is being able to be creative. It is making something out of nothing. You have absolutely no rules to follow, it can be kind of your thing, and it is creating in a lot of ways your personal preferences. And I love creating things. I love putting things together and I love seeing how things will come together, and also I like bringing people together. So for me, it's all a win.
Now, if only I can get my family to forget about the time I was adamant about being in charge of making Brussels sprouts for Christmas dinner and ended up burning all of them to a crisp so they'll let me plan something for us again...