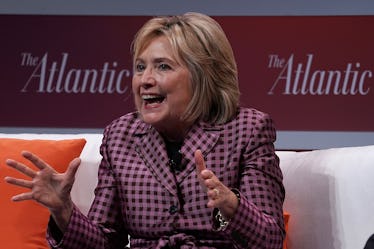 Hillary Clinton Is Cheering For All The Women Who Won In The Midterms
Alex Wong/Getty Images News/Getty Images
The midterm elections were truly historic events that perhaps no one really saw coming. There were a number a firsts, from Massachusetts electing its first black congresswoman to Kansas getting its first LGBT congressional representative. There were also record-breaking numbers of early voter turnout and fundraising. And, in perhaps one of the biggest moments of the elections, a number of women were elected into office, shattering previous records by impressive numbers. The "women's wave" received widespread praise on social media — including from former presidential candidate Hillary Clinton. To be honest, Hillary Clinton's reaction to the 2018 midterms is nothing but celebration.
On Wednesday, Nov. 7, Clinton went on Twitter to share celebratory words to the many women who claimed victories in the midterm elections, saying, "What a start this is." She also pointed out that "for the first time ever, over 100 women were elected to Congress —including a record number of women of color. Listing off the historic gains of the race, Clinton tweeted, "Sharice Davids and Deb Haaland will be the first Native American women to ever serve in Congress. Rashida Tlaib and Ilhan Omar will be the first Muslim women to serve."
She went on to shout-out winners such as quixotic political novice Alexandria Ocasio-Cortez and Abby Finkenauer, who are both among the youngest women in American history to be elected into the Congress. She added:
Ayanna Pressley and Jahana Hayes will be the first black women to represent Massachusetts and Connecticut in Congress, respectively. Tish James will be the first black woman to be New York's attorney general. Janet Mills will be the first woman governor of Maine. Cindy Axne and Abby Finkenauer will be the first women to represent Iowa in the House. Finkenauer and Alexandria Ocasio-Cortez are the youngest women to be elected to Congress ever.
Clinton concluded the thread by expressing her optimism of the future, and issuing a warning to voters: "Our work is far from over ... Let's be clear about what's ahead."
"This is a crucial step in a long road to repairing our democracy," she added. "It'll take all of us to do it."
Nov. 6 was certainly a major night for female candidates in the political world. As of Wednesday, Nov. 7, CNN projected that 98 women would be elected to the House of Representatives. According to the Center for American Women in Politics (CAWP), that number marks an all-time high for women in the House, beating the previous record of 85. And the number could reportedly increase as more precincts report.
Days before the election on Oct. 26, Clinton gave mixed signals regarding the possibility of her stepping back into the political arena after her stunning 2016 loss to President Donald Trump. According to The New York Times, she told an audience, "Well, I'd like to be president." After the comments started picking up steam, however, the possibility was seemingly ruled out.
Though another presidential run might not be in the cards for Clinton, there are at least some wonderful women in Congress whose interests and behaviors align with hers. And something tells me she'll be there for them if they need her. Can't beat that.