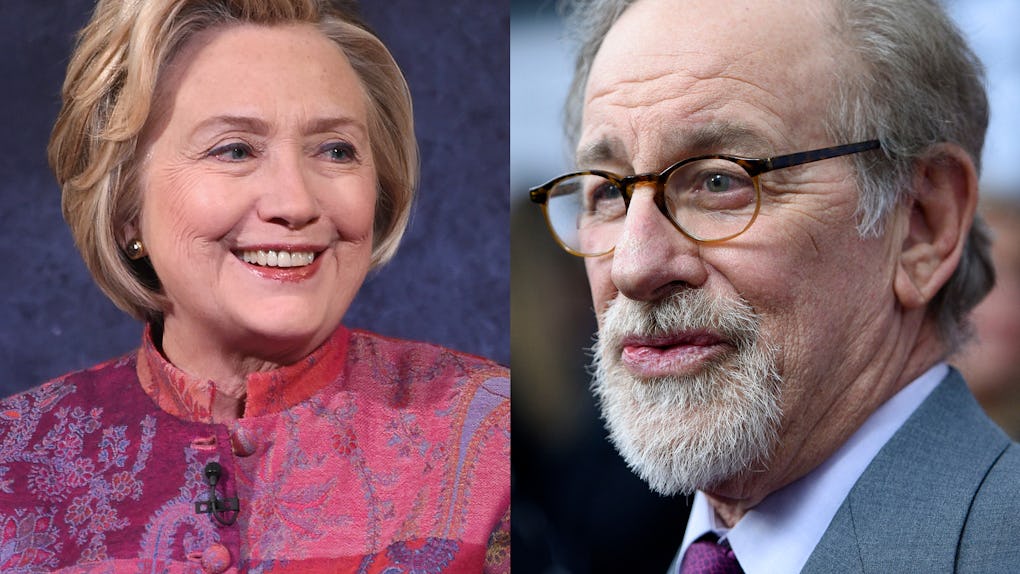 Jamie McCarthy/Getty Images Entertainment/Getty Images & Leigh Vogel/Getty Images Entertainment/Getty Images
Hillary Clinton & Steven Spielberg Are Making A TV Show About Women's Suffrage
It's hard to believe that a TV series solely about the women's suffrage movement hasn't materialized yet in today's social climate, but it looks like we won't have to just replay that "Sister Suffragette" scene in Mary Poppins for our onscreen fill of the trailblazing women who won the right to vote. In a dual effort that sounds so promising, Hillary Clinton and Steven Spielberg are making a TV show about women's suffrage. I'm ready to whip out my "Votes for Women" sign ASAP.
Clinton and Speilberg have paired together as executive producers to adapt Elaine Weiss's recent nonfiction book The Woman's Hour: The Great Fight to Win the Vote into either a TV movie or miniseries. The Woman's Hour is a deep look into American women's fight to earn their right to vote specifically over the course of six weeks in 1920. It also explores the women who particularly fueled the passion behind the suffrage movement, who are undoubtedly the main characters of the eventual TV adaptation.
As the first female presidential candidate nominated by a major party, Clinton executive producing the project is a perfect, feminist fit. In a statement about the adaptation, she said:
At the heart of democracy lies the ballot box, and Elaine Weiss' unforgettable book tells the story of the female leaders who — in the face of towering economic, racial and political opposition — fought for and won American women's right to vote. Unfolding over six weeks in the summer of 1920, The Woman's Hour is both a page-turning drama and an inspiration for everyone, young and old, male and female, in these perilous times. So much could have gone wrong, but these American women would not take no for an answer: their triumph is our legacy to guard and emulate.
According to The Hollywood Reporter, Weiss reportedly found striking parallels between the women's suffrage movement and Clinton's 2016 presidential race against Donald Trump. Weiss was then determined to send the finished book to Clinton, and she managed to meet a bookstore owner who delivered The Woman's Hour to Clinton. Clinton apparently loved the book so much that she met with Weiss and then called Spielberg to arrange a spot for The Woman's Hour adaptation at his company Amblin TV. Women get stuff done, guys.
Clinton is expected to take a fully hands-on approach to the project, helping in the search for a writer, director, and actors. Her new producer role comes soon after Barack and Michelle Obama signed a multiple-year deal to produce Netflix projects. The Obamas have yet to release any specifics about the type of content they're producing, but Netflix has promised they'll provided "a diverse mix" of material. If The Woman's Hour is handled successfully, maybe Clinton can work with the Obamas for another culturally relevant TV project. That sounds like a dream team to me.
While The Woman's Hour is being considered for cable networks like HBO and Showtime as well as streaming sites, people can catch Clinton on broadcast TV this fall. She's due for a guest spot in the fifth season premiere of the CBS show Madam Secretary alongside fellow former secretaries of state Colin Powell and Madeleine Albright. Clinton totally sneaked a copy of The Woman's Hour onto set for the cast and crew, right?