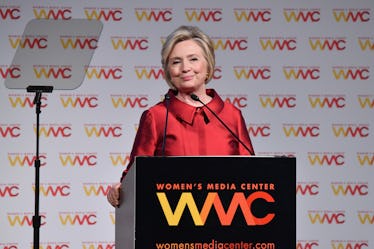 Hillary Clinton's Halloween Costume Idea Is So Good It Hurts
Mike Coppola/Getty Images Entertainment/Getty Images
After writing a book about the 2016 presidential election, Hillary Clinton has been asked quite a few questions on her tour: What happened? (Get it? Because that's the...name...of the, you know, the book?) How do you feel now? And, of course, What are you dressing up as for Halloween? During an interview yesterday, Oct. 30, we found out that Hillary Clinton's Halloween costume might just be the best celebrity costume yet.
During Clinton's Oct. 30 Chicago stop for her book tour, author Cheryl Strayed asked the former presidential candidate, "What are you going to be for Halloween?" Appropriate fodder for the day before the veil between the worlds of the living and dead becomes thinnest.
After hemming and hawing for a few moments, Clinton smirked and said, "I think I will maybe come as the president."
The crowd of Clinton fans went wild, and even for people who don't love Hill, it was a pretty solid joke, with just a touch of sadness. Just a touch.
But whether or not that means she'll be slathering on fake tan and combing back her blonde locks to be Donald Trump remains to be seen.
Though Trump is the president, she could also be dressing up as herself, as she won the popular vote by a margin of about 2.8 million votes.
She even said, earlier in her book tour, that the Electoral College should be abolished, per Business Insider.
"I'd like to see us move beyond it, yes," she told Anderson Cooper on Sept. 13, hinting that perhaps she's not exactly over what happened (get it?) last November.
And, hey, I once dressed up as Beavis, if he were a juggalo, with my friend, who was my juggalo Butthead. You can mix it up, get creative. She can be President Clinton if she wants to be.
But just like with the 2016 presidential campaign, she didn't win everyone over.
Donald Trump, Jr., had something to say about Clinton as well, because why the heck not when you're supposed to be running your father-president's company.
Thanks, as always, for your input, Junior. (Also, why do you have a mask of your dad? For what purpose? Honestly?)
Whether Clinton dresses up as Trump or just rocks her usual pantsuit in a nod to her popular vote win, she won't be alone.
Politically themed costumes are more popular than every, according to NPR, with roughly 2 percent of the population rocking some civically minded costumes.
And if she does just dress up as herself — some of us are fans of lazy Halloween and making costumes with the least amount of effort possible — she won't be alone.
A lot of political costumes have been spotted at Georgetown, which I guess is to be expected from a bunch of D.C. politics nerds.
One person on Twitter said her brother dressed up as Clinton for reasons unknown to her.
The following Clinton costume is my favorite, despite not providing a picture, because ostensibly this person is dressed in a pantsuit, which they could pass off as just a new aesthetic if people start asking questions.
And anyways, for the first time in decades, Clinton is a private citizen, so she can do whatever she wants. She can hang out with her grandkids in New York — where she'll be giving another talk on Nov. 1. Or she can drink mulled wine in front of a roaring fire. Or, heck, she can dress up and post selfies all over social media.
And if she ends up not going with the presidential costume, I have a few alternative costume ideas for Hill: Kate McKinnon-as-Hillary Clinton or Amy Poehler-as-Hillary Clinton. Leslie Knope would be cool! Or, for a little something out of left field, she could dress as James Bond so she'd have an excuse to drink vodka martinis all night long. Or, hell, she could just throw on a bathrobe, a nice mud mask, and some slippers, and kick back on a Tuesday night. Lord knows she deserves it.