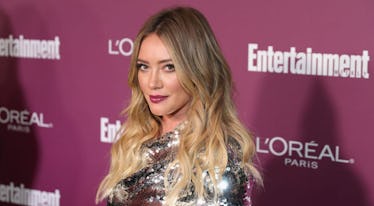 Hilary Duff Is In A Horror Movie About The Manson Murders & You Need To See The Photo
Neilson Barnard/Getty Images
As weird as it sounds, former Disney Channel stars joining serial killer biopics is becoming a trend in the movie business right now. First, Ross Lynch portrayed Jeffrey Dahmer in the recent My Friend Dahmer, then there was Zac Efron getting cast as Ted Bundy in the upcoming Extremely Wicked, Shockingly Evil and Vile, and now Hilary Duff is throwing her hat in the ring by joining a new movie about Charles Manson's infamous murder. Yep — Hilary Duff is going to be in a Charles Manson murder movie, as reported by Deadline. She just nabbed the title role in The Haunting of Sharon Tate, a new movie about the famous victim of the Manson Family murders.
Hilary Duff will star as Sharon Tate in The Haunting of Sharon Tate, the young actress who made it big in the '60s thanks to her scene-stealing role in Valley of the Dolls, only to be murdered by Charles Manson's cult in August of 1969 at age 26. The psychological thriller will mark Duff's first foray into horror and biopics, a jump from the lighter rom-com fare that she is best known for. Duff's costar on the project is another actor best known for mid-2000s teen comedies: Jonathan Bennett, who played high school heartthrob Aaron Samuels in Mean Girls, will portray Sharon Tate's protective ex and confidant. Duff shared a photo of herself to Instagram in her Sharon Tate hair and makeup, and wrote a note about what the role has meant to her:
Had the incredible opportunity of playing Sharon Tate the past two weeks in an independent movie. She was an amazing woman and it was a true honor.
Weirdly enough, The Haunting of Sharon Tate is one of three Charles Manson-centric movies slated to come out later this year. Sharon Tate will also be a central figure in Quentin Tarantino's currently untitled movie about the Manson murders, with Margot Robbie in talks to play the part. And there's also Charlie Says, which will feature Doctor Who star Matt Smith in the role of Charles Manson. All three movies are currently in development ahead of the 50th anniversary of the Manson murders next year.
While the other two Charles Manson movies being made will focus on the murders and their aftermath, The Haunting of Sharon Tate will follow Sharon Tate during her final days, leading up to her brutal murder. The plot is reportedly heavily based on an interview that Tate gave prior to her death, in which she told the interviewers that she had been seeing ghosts and visions of her death.
On August 8, 1969, Sharon Tate hosted a dinner party at her Los Angeles home with her husband Roman Polanski, although Polanski missed the party due to a delay in London. Around midnight, Charles Manson's cult broke in and murdered all of the attendees. Tate was two weeks away from giving birth to her first son at the time — she was stabbed multiple times and the murderers reportedly used her blood to write the word "PIG" on the door of the home. The motive for Sharon Tate's murder remained unclear for a while, until members of the Manson Family were arrested and explained that Charles Manson had asked them to attack that specific address, which had once belonged to a record producer that Manson was acquainted with named Terry Melcher.
Obviously, the role of Sharon Tate could be a major and career-redefining one for Hilary Duff, so get ready to see her in a whole new light pretty soon. The Haunting of Sharon Tate is currently in production and has not announced a release date yet, but expect it to drop sometime later in 2018.