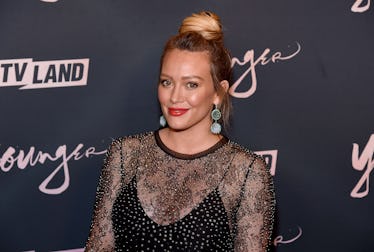 Hilary Duff Is Pregnant With Matthew Koma's Baby & This Is What Dreams Are Made Of
Jamie McCarthy/Getty Images Entertainment/Getty Images
I think it's safe to say that Lizzie McGuire star Hilary Duff is one of the most well-adjusted former Disney actors out there. She regularly makes me proud via her stint on Younger, but now my inner Duff fangirl has another reason to celebrate. Hilary Duff is pregnant with boyfriend Matthew Koma's baby, and her sweet baby announcement is clearly what dreams are made of.
Duff, 30, is already the mother of 6-year-old Luca, who she shares with ex-husband Mike Comrie. Following her divorce from Comrie in 2016, she began dating music producer Koma in January 2017 after first working alongside him for a few songs on her album Breathe In, Breathe Out. I don't know about you, but Duff is one of those stars I just always want the best for, so I was devastated when she split with Koma in March of that year. However, the two were soon back together, and it's now clear that their relationship is pretty strong at the moment.
Duff took to Instagram on Friday to share her exciting news, posting a photo of herself cuddling with Koma, who's kissing her cheek in the pic. At first glance, she doesn't seem to be sporting a baby bump, but her adorable caption says it all:
Guess what guys! @matthewkoma and I made a little princess of our own and we couldn't be more excited!!!!!!
Obviously, the most thrilling thing about her message is her subtle gender reveal — she's having a mini Lizzie McGuire! If that's not worth a singalong of "What Dreams Are Made Of," I don't know what is.
Koma posted the same picture to his own Instagram page, writing in the caption:
We made a baby girl! She will be as beautiful and sweet as her mother... @hilaryduff another incredible chapter begins.
The announcement comes only days after Duff's sister, Haylie Duff, gave birth to her second daughter, Lulu. Before her own baby news, Duff shared a photo of her new niece, which is even sweeter now that we know little Lulu will have a built-in BFF in her future cousin.
Aside from casually growing a human, Duff has kept busy with the promotion of Season 5 of her TV Land series Younger. The comedy was also renewed for a sixth season this week, which makes me wonder if we'll see awkward but endearing attempts to cover Duff's pregnancy in early Season 6 episodes. To avoid some extra behind-the-scenes work, could a baby be in her character Kelsey's future? Maybe Season 5 will offer some insight into what could happen to accommodate this real-life development.
Although Duff and Koma aren't married, it sounds like he's already an integral part of the family. While on the red carpet at a Younger event, Duff told E! News that her mom totally approves of Koma. That's a good sign! She said:
I got a really nice guy. He's so great. My mom was at Matt's birthday and she was like, 'I just love him. I love him so much. He's the best.' I'm like, 'I'm here. I exist, you know? You're always on my side!'
Duff hasn't spilled about how soon-to-be big brother Luca reacted to the news, but he has his own exciting life updates to manage. Duff recently posted an Instagram Story celebrating his kindergarten graduation, and I'm a little blown away about Lizzie McGuire being old enough to now have a kid in first grade. Where did the time go?
I'm not crying, you are.
Congrats to Duff, Koma, and their families! Fingers crossed that Duff whips out the wisest of Lizzie McGuire episodes to help her daughter figure out the tween life down the road.