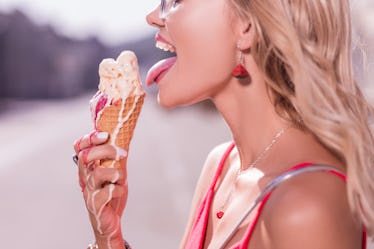 Sex Experts Break Down Why Vanilla Sex Can Be Totally Hot, Too
It can often feel like there's so much pressure to constantly push the boundaries and experiment when it comes to sex. But what if you don't want to? What if you really enjoy the basics and just prefer straight-up vanilla sex? Does that mean your sex life is doomed to be a dud if you don't want to break out all the advanced sex toys or go full human pretzel in the boudoir? The answer to that is of course not, because vanilla sex doesn't have to be boring at all!
Or as Rachel Hoffman, licensed clinical social worker and sex expert, tells Elite Daily: "Vanilla is delicious." The same, Hoffman says, goes for vanilla sex. "When you think of vanilla ice cream, you go back to the basics, to what you know you'll love, and you simply enjoy it for what it is," she explains. "There is constantly pressure to be experimental, to push yourself outside your comfort zone in order to figure out what positions, toys, or tricks you can try. I definitely recommend trying new things; however, this does not mean to completely dismiss vanilla sex! Vanilla sex can be completely satisfying, pleasurable, and can feel passionate and steamy." So, if vanilla is your favorite flavor in the bedroom, here is why the experts say it can be super hot.