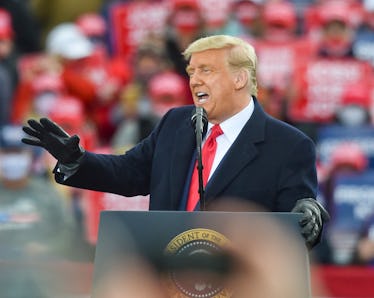 2 Cabinet Members (& A Lot Of Other People) Have Resigned Over The Capitol Attack
MediaNews Group/Reading Eagle via Getty Images/MediaNews Group/Getty Images
In the aftermath of the Jan. 6 assault on the U.S. Capitol by a mob of Trump supporters, Americans all over the country are struggling to make sense of the chaotic series of events. As a growing list of U.S. lawmakers call for President Donald Trump's immediate removal from office, some White House staffers and other public officials have decided to abandon ship during the tumultuous final days of Trump's term. Here are all the officials who have resigned after the attack on the Capitol, and their public reasons why.
On Jan. 6, Americans were horrified by the images of Trump supporters breaking into the U.S. Capitol building, forcing lawmakers to evacuate the legislative chambers and shelter in place. Potential pipe bombs were found near the Republican and Democratic National Committee headquarters, per the FBI, adding to the sense of fear and unrest. The violence followed a rally at which President Trump, once again, repeated baseless claims that the 2020 election had been stolen from him, and instructed his supporters to go to the Capitol to "cheer" politicians questioning the election results, and that "we will never give up, we will never concede." In the aftermath of the riot, many blamed Trump for inciting the violence, particularly since he initially held back from denouncing the attack on the Capitol. The White House did not reply to Elite Daily's request for comment on the violence or Trump's role.
Now, with less than two weeks until the end of his term, many Trump officials are finding they cannot continue as part of his administration, and are issuing their resignations. This list will be updated as more announcements are made.