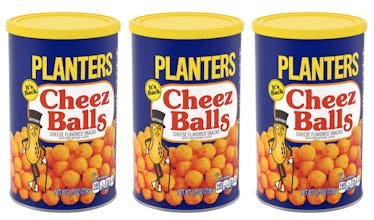 Cheez Balls Are Finally Coming Back & They'll Make You Feel Like A Kid Again
Planters
If you grew up in the '90s, I've got the perfect treat for you. Planters is bringing back their beloved Cheez Balls after more than a decade. The round and crunchy cheese balls are making their return, but the savory snack will only be available for a limited time. I'm not saying they are going to sell out or anything, but I know I will be buying my fair share before it is too late. Here's where to buy Planters' Cheez Balls for the ultimate throwback snack.
The cheese-flavored balls were all the rage when I was growing up. From lunchtime to snack time, nothing satisfied my cravings quite like Planters' Cheez Balls did. That is why I'm over the moon that Planters' Cheez Balls and Cheez Curls are being unearthed for a second coming. So, where can you get a canister of your own? You can buy the nostalgic snacks on Amazon and Walmart.com and have them shipped directly to your doorstep. More stores are expected to carry Planters' Cheez Balls and Cheez Curls in the months to come, but for now, you will have to get your cheesy fix from either of those two sites. Cheez Balls will be sold in 2.75-ounce canisters and Cheez Curls will be sold in 4-ounce canisters for a suggested price of $1.99, according to Planters.
Before you close out of this article and frantically order yourself a shipment or two (hey, I don't blame you), you should know that the Planters products will not be available for purchase at either retailer until Sunday, July 1. Who knows, maybe you'll be able to score free, two-day shipping? I say you might as well load up your cart with these tasty treats, because they won't be around for long. The retro snack is only available for duration of the summer, so go ahead and stock your pantry.
"We heard many impassioned pleas for us to bring Cheez Balls and Cheez Curls back over the years and we wanted to give our fans a chance to reunite with their most-missed cheesy snack," said Planters Head of Brand Building Melanie Huet in a press release. "We made sure our Cheez Balls and Cheez Curls still have the same delicious taste, airy texture and fluorescent color you know and love, so our fans can enjoy a nostalgic trip down memory lane with every canister."
There were some recent rumblings online (I'm looking at you, Mr. Peanut), that Planters' Cheez Balls may be making a comeback. I don't know about you, but this one really had me on edge. Growing up, my grandma always kept this snack handy. I'm not going to tell you how many Cheez Balls I ate as a kid, but let's just say it was a lot. OK, back to the breaking snack news. It's been more than 10 years since Planters pulled Cheese Balls and Cheez Curls from grocery store shelves in 2006, and what a sad time it was. Suffice to say, my tastebuds are in absolute heaven over this announcement. The snack is back after a long hiatus, and I'm pretty sure the cheesy treat is going to taste even better than I remember.
Just remember: Planters Cheese Balls and Cheez Curls are only available at Amazon and Walmart.com for the time being, starting July 1. Hopefully, it won't be too long before they bless grocery store shelves around the country with their deliciousness, but I won't be holding my breath. For now, I've got my alarm set for Sunday, July 1 to order a few cases for myself. I don't want to wait another 12 years to enjoy it again. Too extreme? TBH, there's nothing wrong with stockpiling a snack this good. Because once it's gone, it's gone.