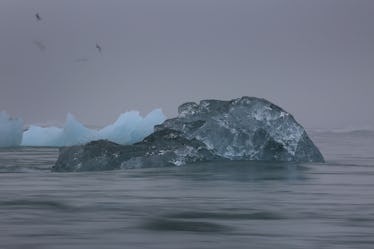 You Can Donate To Support The Planet On Earth Day Through These Organizations
Joe Raedle/Getty Images News/Getty Images
Sunday, April 22 is Earth Day, and it's a great time to make good on that New Year's Resolution to amp up your activism. Ready to pull out your wallet to support the cause? Here's where to donate to support the planet on Earth Day.
The first Earth Day, held in 1970, helped push forward the modern environmental movement. According to the Earth Day Network, about one billion people a year take part in the annual event in almost every country in the world. The original demonstration was to protest the impact of industrialization on the planet. This year's theme is "End Plastic Pollution," focused on the impact of plastics on the environment and pushing for a movement away from their use.
Obviously, the planet is in serious trouble for a lot of reasons. But there are ways to help this Earth Day. Because we're not all Mr. Moneybags, there are also numerous ways to participate in Earth Day and make a difference without spending a penny (more on that below).
But if you're inclined to put your money where your mouth is, here's a sampling of organizations working to protect the environment in various ways. (There are dozens of groups out there doing good work, and this is by no means an exhaustive list. Check out these lists from Mother Jones and Charity Navigator for more details and options.)
MET Community: A global non-profit, MET trains women entrepreneurs how to build businesses sustainably and responsibly.
Oceanic Society: This conservancy group focuses on experiential education and behavioral research to reduce the human impact on the world's oceans.
One Tree Planted: Planting trees helps sequester carbon, a crucial aspect to reducing the effects of climate change. This Virginia-based non-profit focuses on reforestation, and as the name suggests, plants one tree for each dollar you donate. Simple as that! You even get to pick where in the world the tree gets planted, with locations in four continents. (You can also sign up to help plant the trees.)
TerraPass: Feeling guilty about that carbon footprint of yours? TerraPass lets you calculate your footprint and purchase offsets to counteract what emissions you do produce. You can buy a one-time offset package or purchase a subscription, and tailor your offsets either to specific emissions (that flight to Paris, for example) or your lifestyle in general. Offset purchases fund various sustainability projects.
Trees for the Future: This organization uses tree-planting as a way to empower impoverished families and communities globally by helping them establish their own food sources. Planting trees also happens to be great news for the environment; it's a win-win. Trees for the Future also offers a carbon footprint calculator and offset program.
World Wildlife Fund: An all-around nature conversation group, the WWF works on everything from fresh water to climate to wildlife protection. Aside from a standard donation, you can support the organization by "adopting" an animal, which, by the way, comes with stuffed-animal version of the endangered species you select (and honestly, who doesn't want a plush three-toed sloth?). Fun fact: If you're also working on those 2018 New Year's fitness resolutions, you can kill two birds with one stone by doing a fundraising run for WWF.
Nature Conservancy: Another well known conversation group, this one operates in almost every region of the world and in almost every resource field. If it's nature, the Nature Conservancy is probably out there defending it in one form or another. Aside from its continual conservation work worldwide, its Plant A Billion campaign is specifically aimed at reforestation.
EarthJustice: This legal advocacy group works to protect and preserve the earth via environmental law. For example, they work specifically on cases that protect wildlife and habitats, hold polluters accountable, and promote clean energy policy.
National Resources Defense Council: The council is focused on ensuring global access to food, water, and other basic resources, and serves as a watchdog fighting against special interests that threaten these resources.
Conservation International: The global organization works to protect natural habitats, wildlife, and resources through conservation efforts.
And as a quick aside for all you iPhone addicts: Apple is also offering a special deal for Earth Day, valid through April 30. Trade in your old device and the company will donate to Conservation International. (Almost as good as a stuffed sloth, right?)
Getting involved can be as easy as participating in public demonstrations, urging your representative to support climate-geared legislation, and volunteering your time in a local chapter.
And even on the individual level, you can make small adjustments to your lifestyle that add up to a big difference. Simple changes can help reduce your carbon footprint and protect wildlife and the planet.