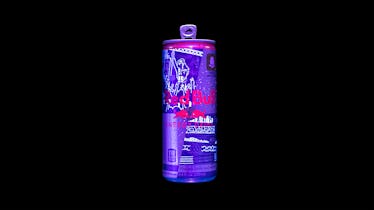 Red Bull Made Glow-In-The-Dark Cans For Music Festivals & They're So Lit
Red Bull
Well guys, my favorite time of year is officially among us, at long last. It's basically the start of festival season, and I already have my fanny pack, sunnies, and glitter ready. Whether you're about to get down to some fiery EDM, sway to some folk music in the mountains, or jam to all of the latest and greatest pop artists, there truly is nothing better than a summertime music festival. But if you haven't already heard about this season's latest festival trend, you might be wondering where to buy Red Bull's glow-in-the-dark cans... because real talk: They are so much freaking fun.
Ah, Red Bull. In addition to being my high school midterms savior, it also came in clutch as my choice alcohol chaser during college. I basically grew up on Red Bull, guys; it's a nostalgic thing. But in all seriousness, as of Wednesday, March 28, the energy drink company made their greatest move to-date by announcing a limited edition glow-in-the-dark can, according to a press release. With the use of UV blacklight technology, there is honestly nothing better in honor of festival season.
Per the release, Red Bull's glow-in-the-dark can will come in the form of single cans and four packs. The can was created in collaboration with Live Nation, as well as each of Live Nation's festival partners, which include: EDC Las Vegas, Governors Ball, Bonnaroo, Lollapalooza, and Austin City Limits Music Festival. The elusive and mysterious glow-in-the-dark cans will be sold at each of these festivals, per the release, as well as in partnering bars and restaurants in the surrounding areas. TBH, if you think I'm not going to one of those festivals in order to get my hands on one of the totally lit Red Bull cans, you're out of your damn mind.
Also in celebration of the highly-anticipated festival season, Red Bull created an incredibly enticing contest which is known as the Red Bull Festival Run game, per the release. Five winners of the contest will receive all-inclusive VIP experiences at one of the included festivals, along with travel accommodations, welcome boxes, a private dinner, swag bags, spending money, and other prizes. Ten non-grand prize winners will receive VIP festival access for themselves and a guest, and 250 non-grand prize winners will receive four-packs of the Red Bull festival cans. Winners will officially be announced by April 30, and those interested can access the game via the Festival Run website or by using the can's custom Snapchat code.
Red Bull is also coming in clutch this season because they'll be live-broadcasting Lollapalooza and Austin City Limits Music Festival on the Red Bull TV app, as well as on the Red Bull TV website. If you can't make it to the festival in person, watching it online to catch your favorite artists is most definitely the next-best thing... so thank you, Red Bull.
Additionally, as of April 9, the beloved energy drink brand will officially be selling non-UV festival design four-packs in retail outlets nationwide while supplies last. Although these cans won't actually be UV (aka glow-in-the-dark), the design will still be completely different from the usual cans, and they'll absolutely get you hyped for summer. Check it out below, because it looks pretty sweet.
I don't know what your plans are this summer, and quite frankly, I'm not entirely sure as to what mine are, either. Regardless, I am absolutely trying to go to a major music festival, and getting my hands on a UV glow-in-the-dark can of Red Bull would be totally clutch. Wherever I ultimately end up jamming, though, I seriously cannot wait to get lit... UV-blacklight-lit, that is.