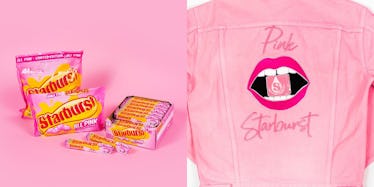 All-Pink Starburst Packs Are Back & You Can Wear This Cute Merch To Celebrate
Starburst
If you love pink Starbursts as much as I do, I have some sweet news for you. The Starburst All Pink packs are back on the shelves for a limited time (!!!) — and thanks to a collaboration between Starburst and Erin Robertson of Project Runway, you can wear your favorite candy. OK, you can't literally "wear" the candies. But the All Pink product line that was announced on Wednesday, April 18 is enough to make anyone feel as sweet as the berry-tasting treat. If you want to hop on the latest trend, here is where you can buy pink Starburst merch in celebration of your favorite sugary candy.
Millennial-pink lovers and Starburst fanatics rejoice, because the line of rosé-colored products was made just for you and your love of the strawberry-flavored confectionary treats. You can now celebrate the return of the All Pink Starburst packs by wearing an "I am a Pink Starburst" t-shirt ($25). It's the perfect addition to your summer wardrobe (and a true testament to your love for the candies). Or, if it still feels like winter in your neck of the woods, you can bundle up with this soft and cozy "I am a Pink Starburst" crew neck sweatshirt ($45), in the color pink, of course.
Robertson's trendy product line offers a total of seven pink Starburst-themed clothing and home decor items (like those I just mentioned), to celebrate the second-coming of the All Pink Starburst packs.
"When I think of pink Starburst, I think of living my best life," Robertson said. "I've always loved pink Starburst, so I was inspired to create a line that makes you feel fierce, but playful."
Yasss. Those are word to live by. There's no doubt that these products — especially when enjoyed with tiny candies — are sure to make you feel just as adored as the Starburst All Pink packs.
Another awesome product from the collaboration that's worth noting is the Sweet Tooth Denim Jacket ($140). The light pink jean jacket is truly something extra with its pink lips and the words "Pink Starburst" embroidered on the back. Wear this on your next outing and you'll be the talk of the town.
"To be referred to as a pink Starburst is something special, and we continue to see people share the 'I am a pink Starburst' meme," said Audrey Arbeeny, Senior Associate Brand Manager for Starburst at Mars Wrigley Confectionery U.S. "We wanted to bring that reference to life offline for our fans, and what better way to do that than launch a merch line where they can boldly wear it on their sleeves."
With prices from the line starting at just $20, it's safe to say there's a little something for every pink Starburst-loving heart.
As I mentioned, the pretty-in-pink products line was launched in conjunction with the return of the Starburst All Pink packs to candy aisles across the nation. Consider yourself blessed, because the beloved blush-colored bags of perfection are back for round two. Have the cravings kicked in yet? If you're trying to fight off your hunger pains while in search of the delectable candies, I am here to help. You can find the limited release packs by paying a visit to your neighborhood Walmart, Target, Walgreens and Dollar Tree stores.
The Starburst All Pink packs are available for a limited time in several different sizes including the 14-ounce laydown bags, 41-ounce stand up pouches, and 2.07-ounce single sticks. Variety is the spice of life, right?
So break out the candy dishes and get to stocking up on your favorite sweet strawberry candy before it's too late. Seriously, what are you waiting for? Go on and treat yourself to a pack while supplies last. You better believe that I will be swinging by my local store to pick up a bag (or six) later today.