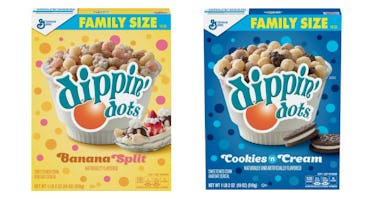 Dippin' Dots Cereal Is Here & It's An Excuse To Have Ice Cream For Breakfast
In an unlikely (but very delicious and totally necessary) pairing, General Mills is making your wildest breakfast dreams come true with not one, but two Dippin' Dots cereals. Inspired by the flavors of the futuristic frozen circular treat, General Mills wants to fill your cereal bowl with ice cream for breakfast. OK, General Mills, if you say so. But first, you need to go get a box of your own, because I'm not sharing with you. Here's where to buy Dippin' Dots cereal for a breakfast blast from the past.
If you are anything like me, you're probably already lacing up your shoes and ready to race out the door to snag a box before it's all gone. Dippin' Dots cereal flavors are available at your local Walmart for $3.64 per box, so find the closest location to you. Less than $4 a box? I'm pretty sure a scoop of Dippin' Dots will cost you more than that, so get to gettin'. You can buy both the Dippin' Dots Banana Split Flavored Cereal and Dippin' Dots Cookies & Cream Flavored Cereal from Walmart's online store, too. Availability will vary from store to store, so just be patient.
Once you've secured a box and added the sweet snack to your cereal bowl, top if off with a little milk. A little dairy may just trick your tastebuds into thinking you are actually eating spoonfuls of Dippin' Dots ice cream.
The 18-ounce boxes of cereal are labeled as "family size," so it is the perfect treat for sharing with your roomie, best friend, co-worker, or to keep in the snack drawer of your desk. Everyone's got one of those, right? OK, that's what I thought.
If you don't live near a Walmart, I've got another purchasing alternative for you. Currently, Amazon is selling Dippin' Dots Banana Split Flavor and Cookies 'n Cream Flavor for $14.99 a box, and no Prime shipping. That's a pretty penny to pay for just one box of cereal. I'm sorry, but I can't make this decision for you. Here's my two cents: If you want to get in on Dippin' Dots cereal, you need to act now. Live your best life, amirite?
There's also a rumor going around that Dippin' Dots cereal may bless the shelves of other grocery retailers later this year. Again, that's just what the internet tells me so it must be true. I can only hope.
I don't know about you, but Dippin' Dots ice cream was all the rage during my middle school years. This cereal collaboration is really bringing me back to strolling around the mall food court with my best pals on a Saturday afternoon, because what else is a seventh grader to do? The nostalgia is almost too much to handle. Just a second while I wash down memories of the good ol' days with a bite of Cookies 'n Cream Dippin' Dots cereal. (For the record, I've got nothing against the Banana Split flavor.)
OK, I'm back.
I realize that ice cream and cereal aren't your average food pairing, but who am I to tell you the unlikely combo would be anything but delicious? I wouldn't do that to you, or to my own reputation. Because anything that involves ice cream and cereal is a heavenly treat that is not to be frowned upon.
Dippin' Dots cereal is coming to a bowl of milk near you very soon, so rinse off your spoon and get ready to dive in to a bowl full of deliciousness. Just remember what I said. Buy a box now or you may harbor your regrets for a very long time. BRB, now I'm off to Walmart to buy two boxes.