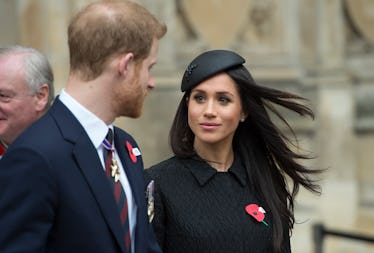 Where Prince Harry & Meghan Markle Will Stay Before The Wedding Is Kind Of Shocking
WPA Pool/Getty Images Entertainment/Getty Images
I stayed at my parent's house the night before my wedding, while my husband-to-be shacked up in the bridal suite of the hotel we were getting married in. I was totally cool with my decision until my maid of honor called from the lobby bar at around midnight, where, it turns out, my groom was throwing back shots with all his friends and mine. So much FOMO! But hey, at least I got my beauty sleep, right? Anyway, it got me wondering about where Prince Harry & Meghan Markle will stay the night before their own wedding. And guess what, you guys? They are going all traditional and doing the whole not-seeing-each-other-before-the-wedding thing, too. Royals, they're just like us!
According to People, the couple is choosing to stay in separate hotels the night before they tie the knot to make sure they don't accidentally cross paths. I mean, you gotta respect that kind of commitment to ritual, right? Harry will be at the Dorchester Collection's Coworth Park in Sunningdale, Ascot with his best man and big bro, Prince William, while Meghan and her mom will stay at Cliveden House Hotel in Berkshire. Meanwhile, the two hotels are apparently about a 30-minute drive from each other, so if the lovebirds change their minds and decide to rendezvous, it's going to be a little bit of a trip.
Meghan's hotel is also a good 25-minute drive to St. George's Chapel, where the ceremony will take place, so here's hoping she doesn't hit any major traffic on the way.
BTW, Kate Middleton and Prince William also stayed in separate locations the night before their 2011 nuptials, only their hotels were just 5 minutes away from where they got married. I can see why Meghan chose Cliveden House, though. On the website, it's listed as a 5-star country house hotel set on 376 acres of National Trust land. Plus, it's got a luxuriously remodeled spa, indoor and outdoor pools, award-winning restaurants, and each room is furnished with rare antiques, a fireplace, and a separate dressing room.
Harry's hotel — a 15-minute drive from St. George's Chapel — is not too shabby, either. Coworth Park is one of England's most iconic 5-star country house hotels, and it features its own luxury spa with an indoor pool and three restaurants. Plus, the rooms have stunning views of the polo fields. Whether or not there's also a lobby bar well stocked with Fireball remains to be seen. But if not, someone should prob get on that ASAP.
Meanwhile, while the couple is keeping things traditional prior to their wedding, the big day will be anything but. According to Sunday Express, there will be food trucks at the wedding. And a disco! Because we all know how much Harry loves to bust a move.
"Prince Harry is planning to use Frogmore House for a disco," a palace source told the publication, adding that there will be ice cream vans serving late night food towards the end. As if I wasn't already super bummed that I didn't get an invite, now I'm just gonna sit here and try to imagine what kinds of "late night food" these two will be dishing up. Will it be pizza? Individual cups of gourmet mac and cheese? The roast chicken they made together the night they got engaged?
As if! According to the Mirror, the after-party will be Tiki themed and modeled after one of Harry's favorite nightclubs, Mahiki. Food will include wagyu beef, sushi, and sweet potato fries. There will also reportedly be a steel band, apache shooters, and ice luges filled with vodka.
Forget the wedding! Can someone please figure out how to crash the after-party and bring me along for the ride?