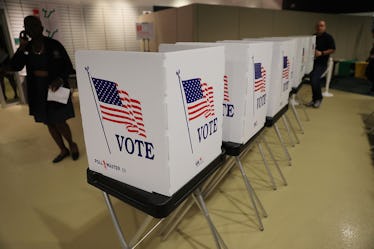 Here's When Election Winners Take Office, So The Real Work Can Begin
Joe Raedle/Getty Images News/Getty Images
It's finally Election Day, and everyone's waiting with bated breath to see what this midterm cycle will bring us by way of political change. As the votes start to pour in, the victors will soon be announced. But once that's done, here's when election winners take office so the real work can begin.
After everyone has cast their vote and all the winners have been announced, it's time for the real change to happen. If you're wondering about the timeline and when your newly elected officials will get to work, the answer is a bit complicated. At the federal level, elected officials — like those elected to Congress — will assume their places at noon on the third day of January, as stated by the 20th Amendment. That's pretty simple, but not everyone is following the same schedule
Down the ballot, the start dates for the elected members to the state legislatures varies from state to state. According to Ballotpedia, there are 37 states, including New York, Alaska, and Michigan, whose newly minted legislators take office in January following the elections, while the rest of the states, like Alabama and South Carolina, have their start dates prior to the new year. But even the dates within those groups vary. Most states, for what it's worth, have their legislators take office sometime in the first few weeks of January.
The whole thing can get a little confusing, so let me break it down a little. Let's start with New York: According to Ballotpedia, legislators for New York take office the first Wednesday in January unless it falls on New Years Day, in which case they'll start the following Wednesday. Missouri legislators, however, assume office the Wednesday after the first Monday in January at exactly noon, because that's when their legislative session starts.
Shifting gears to the group of states whose election officials assume office before January: Alabama legislators get to work the day following the election. If you think that's soon, Florida legislators start the day they're elected. (So, I hope they didn't make any post-election plans.) I know, it's a little confusing, but it's easy enough to find the start dates for your local legislators.
For some of you, it's possible that you can't even think about start dates because you're still waiting to find out who won your state. Election results don't come in all at once, and while most people will find out the winners on Nov. 6, some might have to wait a little. In some states, the results tend to be called early due to an overwhelming majority, but battleground states might go head-to-head until the last of the ballots are counted, with results coming in late or the following day. When a race is really close, absentee and provisional ballots might come into play, stretching out the time before a race is called, as these ballots are held to the end and must go through a vetting process before being counted with the rest. There aren't usually enough to sway a vote, but they do still register as votes that haven't been counted.
Whether you have to wait to hear the results or already know what's up, at least you can rest assured that this deadline for when your new elected officials is certain. Time to get to work, everyone.