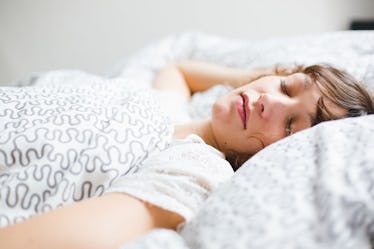 Here's What Your Sleep Schedule Reveals About Your Personality, According To Experts
Sleep is one of those things that, even though it's a universally necessary part of life, everyone goes about it a little differently. Think about what time you go to bed and wake up every morning, compared to your best friend or a co-worker's sleep schedule. A decent night's shut-eye is essential for every human body and mind to function properly, and yet it's such a personal process. When you think about it, your sleep schedule can reveal a lot about your personality, like whether or not you're the type of person who genuinely enjoys waking up a little earlier to bask in the golden pink sunrise, or someone who struggles to get out of bed without pressing snooze once or twice because an overactive brain kept you up late again.
Don't sweat it if you've never really thought about your sleep patterns before. After all, sleep is an instinctive human behavior — it's just something we do. But details like when you close your eyes and rise out of bed, and which part of the day you prefer most, are worth considering from time to time. These fun facts about your unique bedtime behavior reflect who you are as a person.
So what does it mean if you can't wake up early, or if you stay up late browsing social media versus working well into the night? Here's what a few different experts have to say.