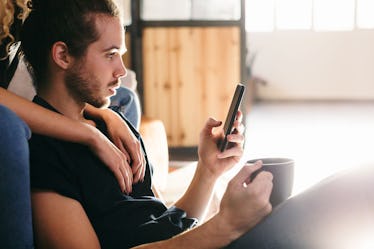 What Experts Say To Do If You're Uncomfortable With Your Partner Talking To Their Ex
It may be nice to pretend that your partner never dated or loved anyone before you, but the fact is we all have a past. But it's one thing for that past to exist in, well, the past, and another thing when that past keeps popping up in the present because your SO is still in contact with their ex. In some cases that's totally fine, when the romantic aspect of the relationship is really over and everyone is respectful of one another. But if you're uncomfortable with your partner talking to their ex, there may be good reason. If your gut is telling you something is off, it's worth exploring why you feel that way and knowing what to do in that situation.
To help sort through this confusing and often fraught issue, I reached out to the experts: Diana Dorell, intuitive dating coach and author of The Dating Mirror: Trust Again, Love Again , and Stef Safran, matchmaker and founder of Stef And The City, who helped break down when to worry about your partner staying in contact with and ex and when not to sweat it. Plus, what to do in each of these situations. Here's what they had to say.