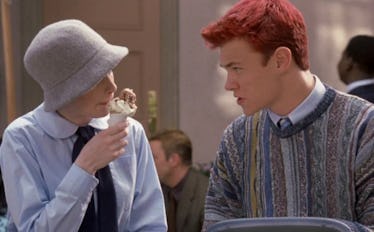 Jeremiah From 'The Princess Diaries' Is All Grown Up Now & Hot As HECK
Disney
The Princess Diaries is most definitely a classic film at this point. And all the actors in the film have essentially become fondly remembered icons of many people's childhoods. One such actor, Patrick John Flueger, who played Jeremiah, is among them. And he's gone on to become quite a stunner. Ready to see what Jeremiah from The Princess Diaries looks like now? Well, buckle up because he's truly blossomed into an incredibly attractive guy.
It's been 17 years since The Princess Diaries hit theaters and in that time, so many of the film's stars have truly transformed. Anne Hathaway is basically a glamazon these days, while Mandy Moore is killing it with her beauty and acting skills on This is Us. Jeremiah (Flueger), the red-haired magician from the film, has also had a big transformation.
Now age 34, Flueger is lending his looks and talents to Chicago P.D. And while he's basically twice the age he was when he played that dorky, awkward kid in The Princess Diaries, recent photos of him are proving that he's getting better and better with age.
In case you don't quite recall what he looked like in The Princess Diaries, you can catch a glimpse of him in this video. You can't miss him. His hair is just... red. Like, Gatorade red. Or Kool-Aid red. Think Ariel from The Little Mermaid.
Anyway, here's how Flueger is looking now in 2018:
Flueger, who goes by Paddy in his personal life, has ditched his red hair completely (who wouldn't, right?) and now sports a short haircut with some facial hair. It's a pretty standard look for Hollywood types like him, but he wears it really well!
The actor frequently displays his flair for style on Instagram. He's rocking some sunglasses here and looks amazing!
And here's another shot with sunglasses as well as a little splash of humor:
Every now and then, Flueger will post a video of himself. Like this one of him and some friends in Switzerland chastising another friend who left before they could enjoy the view:
Is anyone else as obsessed with his beard as I am? There's also this ambient clip of him walking the streets of Paris:
And this one of him sporting sunglasses (again!) and enjoying a cigar with a pal:
And, of course, this swoon-worthy photo of Flueger with a bunch of kids:
Overall, the guy seems to be enjoying the heck out of life right now. I'm sure his good looks don't hurt, either. I mean, imagine being incredibly attractive, following your dreams, and being able to travel the world. That's all anyone could ask for, right? Well, it looks like Flueger's got it all.
No matter what Flueger does or how well he ages, he'll always be remembered as the guy in The Princess Diaries with the fire red colored hair and magic skills. You can't ever escape a notorious past and Flueger definitely has one of those... in terms of acting, anyway.