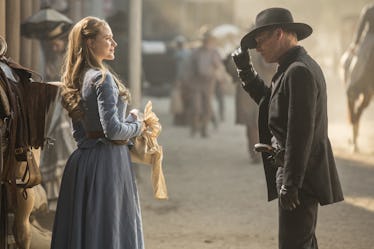 Here's The 'Westworld' Timeline Of Events You Desperately Need For Season 3
Season 2 of Westworld had one repeated mantra: "Is this now?" But this was a question of which event happened when inside the park, as Bernard unaddressed his memories, leading him not to know what happened in which order. Season 3, on the other hand, is doing something radical. It's leaving the park for the real world, where time is not a bunch of data in a host brain, and the march of days cannot be confused with those in the past. It does lead to a new question: When is now? This Westworld timeline of events will help viewers remember everything that's happened so far.
Season 1 jumped back and forth between the present day and 35 years in the past. Season 2 went one better. Not only did it go deep into the past, but it also filled in several portions of what Season 1 skipped over. It also played with time within the present day. Most of the second season's present-day scenes flash between the events directly following season one, and stuff that happens two weeks later.
Season 3 will mainly take place outside the park, set in the present day of 2052. But how did society get where it is now? Here's a timeline.